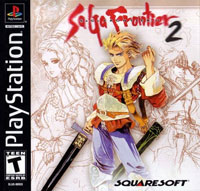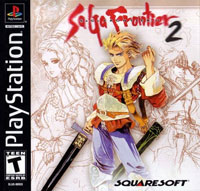 SaGa Frontier 2
PS1
Eighth installment of the popular series of Japanese role-playing games SaGa. The production tells two different stories taking place in the fantasy world of Sandail.
RPG | fantasy | science fiction | turn-based | 2D | jRPG
SaGa Frontier 2

Release Date PS1

31January2000
developer: Square Soft publisher: Square Soft

game language: English
SaGa Frontier 2 is the eighth full-fledged installment of the SaGa series. Although it is a continuation of SaGa Frontier from 1998, the title takes place in a completely different world and there are no direct references to the events presented in its predecessor. The game was developed by Square, a popular Japanese studio responsible for the Final Fantasy series.
Story
SaGa Frontier 2 takes place in a fantasy world called Sandail. The story is divided into two separate threads, which sometimes interweave with each other. The protagonist of the first one is Gustave XIII, the former prince of the kingdom of Thermes. He is sentenced to exile after not showing any magical abilities during an ancient ritual. The second story presents the fate of three generations of the Knights family, looking for a mysterious artifact known as The Egg.
Mechanics
Like its predecessor, SaGa Frontier 2 stands out from the other members of the genre with the very high degree of freedom given to the player. We can freely explore almost the entire area of the game, being limited primarily by the strength of the opponents encountered in some regions. The centerpiece of the game is exploration, talking to NPCs and combat.
The latter, although still based on a turn-based system, this time was divided into three very different variants. In addition to the traditional battles of up to four-person teams with groups of enemies, there are also one-on-one battles and much larger strategic battles. Victories enable us to develop the attributes of the characters taking part in battles.
Technical aspects
SaGa Frontier 2 boasts different visuals than the previous installment of the series. Two-dimensional characters and backgrounds have been hand-painted with the use of watercolor technique, thanks to which they look very attractive and colorful. Music for the game was composed by Masashi Hamauzu, who played a similar role in Final Fantasy XIII.
Game mode: single player
Age restrictions SaGa Frontier 2: 12+