Guitar Hero Video Game Series
Video Games Encyclopedia by Gamepressure.com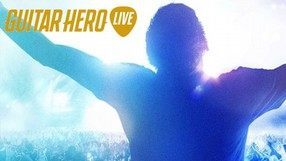 Guitar Hero Live
Arcade 20 October 2015
The next major installment in a bestselling music game series launched in 2005 by Harmonix studio, who are currently developing a similar series, Rock Band. Returning after a several-year long hiatus, this new installment was developed by FreeStyle Games, who previously created two DJ Hero games. Overall, the gameplay mechanics did not change much, however, this time the game features the view from the guitarist's eyes, whereas cartoonish characters gave way to authentic musicians and crowds resembling real audience. Guitar Hero Live supports a new version of guitar controller with 6 buttons in two rows, imitating the real instrument even better. As always, the game lets you adjust difficulty level to your skills. Unfortunately, unlike rivaling Rock Band 4, Guitar Hero Live is not compatible with tracks purchased for previous games.

Guitar Hero: Warriors of Rock
Party 28 September 2010
Another music game from the extremely popular series, this time with a record-breaking big player and new gameplay modes. In addition to the mass of debuting creations in this series, the authors have also prepared a feature mode telling the story of eight rock warriors who have to face a bad beast.

Guitar Hero: Van Halen
Party 22 December 2009
One of the numerous titles creating the Guitar Hero brand. Thanks to the tracks on the album, every player will feel like a member of the hard-rock band Van Halen.

Guitar Hero 5
Party 01 September 2009
Guitar Hero 5 is the next installment of the music item beloved by all. This time Neversoft completely re-modeled the game, which provides a quite fresh approach to the guitar theme.

Guitar Hero: Smash Hits
Party 16 June 2009
Guitar Hero: Smash Hits is another title from the popular music game series that debuted on PlayStation 2 in 2005.

Guitar Hero On Tour: Modern Hits
Party 09 June 2009
The third game from the popular series, designed exclusively for the Nintendo DS console. As usual, the game consists in imitating guitar playing in various famous music pieces.

Guitar Hero: Metallica
Party 29 March 2009
Another game from the extremely popular Guitar Hero series. This time dedicated to the metal legend, the American band Metallica. The player plays the role of a crawling band whose greatest dream is to perform in front of their musical idol, that is Metallica.

Guitar Hero: On Tour Decades
Party 14 November 2008
Guitar Hero: On Tour Decades is another music game from the popular series. It is addressed to all rock lovers who want to feel like a real star.

Guitar Hero: World Tour
Party 26 October 2008
A music game belonging to the popular Guitar Hero series. Allows you to become a guitarist, drummer or vocalist of the band. A separate controller has been prepared for each of these roles. Another novelty is the ability to create your own works and modify others' works.

Guitar Hero: On Tour
Party 22 June 2008
Guitar Hero: On Tour is the first installment of the incredibly popular series that hit the portable console. The program, sold with a special overlay on the console, allows us to experience the pleasure of becoming a famous guitarist.

Guitar Hero III: Legends of Rock
Party 28 October 2007
Guitar Hero III: Legends of Rock is already the third (and first on PC) part of the famous series of music games, which previously triumphed only on consoles. Thanks to Aspyr Media, which has prepared the conversion to computers, now users of metal sheets can also try their hand at clashing with the guitar and other rock songs.

Guitar Hero Encore: Rocks the 80s
Party 17 July 2007
Guitar Hero: Rocks the 80s is another edition of the extremely popular product, which turned out to be Guitar Hero. Simple rules and a powerful dose of music attracted a lot of players to the console, allowing them to feel like real rock stars for at least a moment.

Guitar Hero II
Party 07 November 2006
The second part of the best-selling series of music games, in which we play dozens of rock and metal hits with the use of a controller resembling a real guitar.

Guitar Hero
Party 07 November 2005
Guitar Hero is a representative of the genre of music games, in which the player's task is to press individual buttons at the right moment.