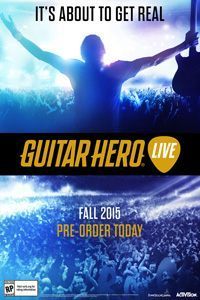 Guitar Hero Live
The next major installment in a bestselling music game series launched in 2005 by Harmonix studio, who are currently developing a similar series, Rock Band.
Arcade | music | co-op | splitscreen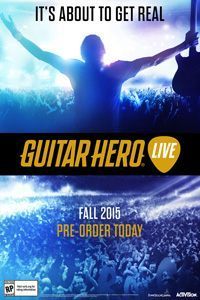 Game mode: single / multiplayer
Multiplayer mode: Internet / common screen
Guitar Hero Live on PS4, X360, etc. is the next installment of the famous Guitar Hero series of music games, started in 2005 by the Harmonix studio. It is also the franchise's return to the market after several years of absence. The title appeared with a new version of the guitar with six buttons in two rows. This controller allows you to better imitate the feeling of playing a real instrument, and in addition, it allows you to adjust the fun to the skills of different players - from beginners who use only three buttons to veterans who can perform complex combinations on all six buttons. The game was developed by FreeStyleGames studio, known from the DJ Hero series.
Mechanics
The gameplay itself doesn't differ diametrically from the earlier releases of Guitar Hero. We press the designated buttons a plastic guitar at the right moment when a note flying from above falls into one of the fields displayed on the screen. Unlike the previous parts, the action is presented from the perspective of a guitarist, and the virtual musicians and the audience have been replaced by real actors. Thanks to this, we have a greater impression of participating in the concert, which is further enhanced the behavior of fans affected by the way we play. If we do well, people jump, dance and cheer, but if we aren't doing good, their attitude changes for worse (whistles, buzzing, etc.).
The available songs include the Black Keys, Fall Out Boy, My Chemical Romance, Gary Clark, Jr., Green Day, Ed Sheeran, The War on Drugs, The Killers, Skrillex, The Rolling Stones, The Lumineers, Carrie Underwood, Pierce the Veil or Blitz Kids. The title, in contrast to the competitive game Rock Band 4, is not compatible with previously released songs. Instead, Activision has made available the GHTV online platform, which publishes official video clips of various performers, with the possibility of playing them.
Below is a full list of songs in Guitar Hero Live.
The 1975 - Girls
30 Seconds To Mars - The Kill (Bury Me)
Arctic Monkeys - R U Mine?
Avril Lavigne - Here's To Never Growing Up
Biffy Clyro - Victory Over The Sun
The Black Keys - Gold On The Ceiling
Blink 182 - The Rock Show
Bring Me The Horizon - Shadow Moses
Deap Vally - Lies
Elbow - Grounds For Divorce
Eminem - Berzerk
Fall Out Boy - My Songs Know What You Did In the Dark (Light Em Up)
Gaslight Anthem, The - 45
Good Charlotte - The Anthem
Green Day - Nuclear Family
Halestorm - Love Bites (So Do I)
Imagine Dragons - Demons
Jack White - Lazaretto
Kasabian - Club Foot
Katy Perry - Waking Up In Vegas
The Killers - When You Were Young
Linkin Park - Wastelands
The Lumineers - Ho Hey
Mumford & Sons - I Will Wait
Neon Trees - Everybody Talks
Of Mice and Men - Bones Exposed
Of Monsters And Men - Mountain Sound
One Republic - Counting Stars
Paramore - Now
Pearl Jam - Mind Your Manners
Pierce The Veil - King for a Day ft. Kellin Quinn
Queen - Tie Your Mother Down
Rihanna - California King Bed
Rise Against - Tragedy + Time
Rival Sons - Keep on Swinging
The Rolling Stones - Paint It Black
Royal Blood - Little Monster
Skrillex - Bangarang
Soundgarden - Been Away Too Long
The Who - Won't Get Fooled Again
Wolfmother - Sundial
You Me At Six - Lived a Lie
Similar games:
PEGI Rating
System requirements
Additional information (iOS):
Internet connection is required