LEGO Harry Potter: Years Video Game Series
Video Games Encyclopedia by Gamepressure.com

LEGO Harry Potter Collection
Arcade 18 October 2016
A set of two enhanced parts of the LEGO Harry Potter series for the eighth generation consoles, originally released in 2010-2011 by Traveller's Tales and Warner Bros Interactive Entertainment. The set includes the games LEGO Harry Potter: Years 1-4 and LEGO Harry Potter: Years 5-7, based on the seven books in the series by the British writer J.K. Rowling. In both games, apart from the protagonist — the teenage wizard — you meet many characters from the books and movies, both his friends and enemies, including the nefarious Lord Voldemort. Both parts of LEGO Harry Potter Collection feature improved visuals, introducing e.g. enhanced lighting and new special effects. The set also includes two expansions: Spell Pack, which adds five unique spells, and Character Pack, adding 10 previously unavailable characters.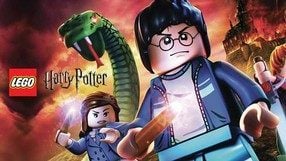 LEGO Harry Potter: Years 5-7
Action 15 November 2011
LEGO Harry Potter: Years 5-7 is the sequel to a 2010 release, an action adventure game by Traveller's Tales, combining the world of LEGO with the universe from the popular series of books and their movie adaptation. The plot of LEGO Harry Potter: Years 5-7 is based on the last three books in the series, and the story is focused on Harry's fight against the powerful Lord Voldemort, who, after gathering more followers, becomes a real thread to the whole world of magic. During the game, the players can control various characters known from the universe created by J.K. Rowling, and visit a number of equally well-known locations, which at the same time feel completely new, since they are built out of LEGO blocks. The game is filled with adventure and arcade elements, but it also has its share of logic puzzles. Compared to the prequel, this game presents a gloomier and more serious world.

LEGO Harry Potter: Years 1-4
Action 25 June 2010
A licensed LEGO action-adventure game, set in the fantasy universe of Harry Potter, created by the British writer J. K. Rowling. The story was based on the first four Harry Potter books and their movie adaptations by Warner Bros. During the gameplay, you witness the adventures of Harry and other characters, explore Hogwarts School of Witchcraft and Wizardry and fight many enemies, including the main antagonist of the cycle, the evil Lord Voldemort. Mechanics-wise, LEGO Harry Potter: Years 1-4 combines the features of the earlier productions by Traveller's Tales, including the distinct sense of humor, with more serious elements of Harry Potter productions by e.g. EA. The game is set in a partially open world and features many varied activities, such as magic lessons, potion making or flying a broomstick.