Neighbor Video Game Series
Video Games Encyclopedia by Gamepressure.com
Secret Neighbor
Action 23 October 2019
A multiplayer action game with adventure game elements, in which the players take on the role of children trying to free a friend held in the basement by a neighbor. The situation is further complicated by the fact that one of the characters is a man in disguise, and his task is to make the lives of the other characters miserable.

Hello Neighbor: Hide and Seek
Arcade 07 December 2018
Adventure with elements of a sneaky with an action presented from the perspective of the first person, which is a prequeel of Hello Neighbor game published in 2017. The protagonists of the production are two imaginative children of the antagonist of the first installment of the series.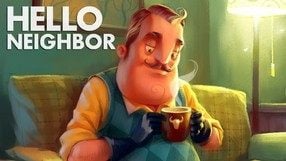 Hello Neighbor
Arcade 08 December 2017
An unusual first-person stealth game by Dynamix Pixels. In Hello Neighbor, we assume the role of an owner of a suburban house who suspects that his neighbor hides a terrible secret. To confirm his suspicions, he decides to sneak into his home, which won't be easy since the man is incredibly alert and will stop at nothing to protect his privacy. The goal is to infiltrate the neighbor's house undetected. Decoys and other distractions are helpful in turning the attention away from us. The primary element of gameplay is the advanced artificial intelligence that lets the neighbor remember the player's actions and thus foresee his future ones. The paths that we take most frequently are quickly armed with numerous traps and alarms so the game requires creativity and flexibility to be won.