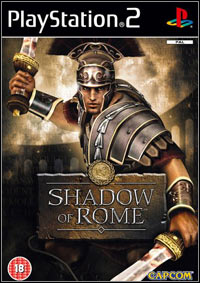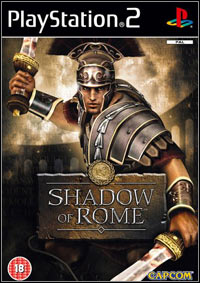 Shadow of Rome
PS2
Let's move back to the ancient times of the Roman Empire, when honour and pride were more in price, while bravery and loyalty counted three times and was lavishly rewarded by emperors.
Shadow of Rome

Release Date PS2

04February2005
developer: Capcom publisher: Capcom Official website

game language: English
The year is 44 B.C. The grandeur of the Republic of Rome has been tarnished by political corruption and society has been overrun by unruliness and violence. Julius Caesar advocates for drastic reform but he is met with opposition and murdered. The horrific news finds its way to the ears of one soldier, Agrippa, whose father is accused of the murder. Unfortunately, time is running out for Agrippa as his father is to be publicly executed by the winner of the next gladiatorial event. Venture throughout ancient Rome with the help of Agrippa's best friend, Octavius, and a female gladiator named Claudia. Shadow of Rome™ will automatically switch between Agrippa and Octavius, each of whom have their own area of expertise, to rescue Agrippa's father and uncover the truth.
Key Features:
- Character switching – Shadow of Rome™ blends action and adventure with the use of two different main characters, Agrippa and Octavius. One character lends itself more to action and the other is crucial for the adventure elements of the game. The game automatically switches between the 'brains'and 'brawn' to uncover the truth behind the real murderer of Caesar.
- Ancient Rome is stunningly recreated immersing the player by bringing a sense of realism to the game with full 3-D polygonal environments
- Gameplay variety – Participate ingladiatorial events such as chariot racing, tournament battles and duals tothe death.
- Dolby Sound Pro Logic II support
Game mode: single player
Media type: 1 DVD
User score: 8,4 / 10 based on 332 votes.
PEGI rating Shadow of Rome