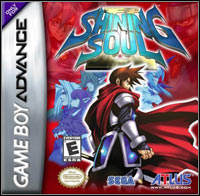 Shining Soul II
GBA
Continuation of the famous arcade role-playing game. The game continues to focus on mass elimination of creatures. This time, however, we can choose between eight characters (e.g. ninja, dark magician, or warrior).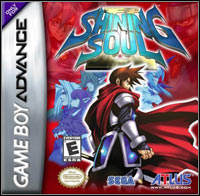 Game mode: single / multiplayer

game language: English
game release date for GBA:
26March2004
Shining Soul II is an official continuation of the very popular arcade role-playing game, and at the same time another product from the Shining series (started in the 90s of the XX century). Titles from this series appeared on many different hardware platforms. These were mainly Sega consoles such as Genesis or Saturn. Over time, however, these products began to be transferred to the platforms of other manufacturers. GameBoy Advance console has only been released in the Shining Soul series. This second part does not introduce any revolutionary solutions to the gameplay. It is still an easy to use eRPeG, focused mainly on the efficient elimination of monsters and not on a complex character development system. The game represents the popular hack and slash genre. Continuation streamlines many of the elements of the first part which proved to be insufficiently good. The producer, who became Grashopper, has also changed. This developer became famous for such titles as Killer 7 or Contact.
Unlike the previous part, in which we chose between four professions characters, this time there are as many as eight of them. In addition, you can unlock the hidden character after completing the game. The list of available heroes includes a sorceress, a dark magician (he can transform into some of the creatures he encounters during the game), a priestess (heal spells are worthy of attention), a ninja (a classic warrior), a dragonute (a combination of a man and a dragon), a warrior, a bravado (a typical troublemaker, able to heal himself and fall into fury) and an archer. The controlled hero is described by basic factors such as strength and dexterity. It can also acquire new skills. This happens when you are promoted to higher levels of experience.
The control is very clear and at the same time quite complex. The player can perform different types of attacks, use additional spells, or browse objects in the inventory. One of the most interesting novelties assumes the possibility of using grenades and Molotov cocktails. The visual setting is definitely higher than the first part. Improvements included mainly the appearance of the area. In addition, Shining Soul II has a fully fledged multiplayer for four people. Players have fun in cooperation mode. It is also possible to exchange the acquired items.
Please let us know if you have any comments or suggestions regarding this description.
PEGI Rating
System requirements
Game Boy Advance
Uses: link-cable + additionally (GBA): link-cable