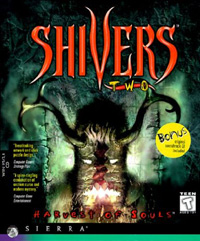 Shivers Two: Harvest of Souls
PC
Continuation of an excellent adventure game from 1995. As a member of a rock band we try to solve the mystery of disappearance of our friends and the curse that the mysterious Dark Cloud threw on the inhabitants of the town.
Adventure | FPP | point-and-click | horror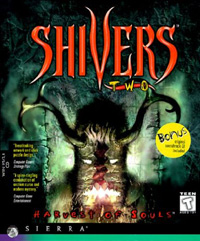 game release date for PC:
30April1997
Shivers II is a continuation of the Sierra adventure game released in 1995, referring to such titles as Myst or The 7th Guest. For the second time we are dealing with a classic point-and-click production embedded in horror climates.
The plot of the game takes us to a small American town, where we come as a member of the popular rock band Trip Cyclone, to meet with friends from the band and in this place to shoot their next video. Upon arrival at the site, we receive a message that our friends have been kidnapped and only a true warrior can save them. After a nightmare interrupted by nightmares, we learn that behind the disappearance of the team stands the mysterious Dark Cloud and in order to overcome his curse, we will have to find 12 hidden ribbons with special spells in the city. As we leave the hotel, we realize that all the inhabitants of Cyclone have disappeared in unexplained circumstances, and we have been imprisoned in this dark and ghastly place.
Shivers II is non-linear and boils down to the free exploration of the mysterious town in search of clues that will lead us to solve the mystery. During our trip we will visit a motel, bakery, petrol station, hairdressing salon, cafe, church, library, sheriff's office, cemetery, mine or canyon, called "Devil's mouth" by the locals. A number of useful tracks and information can be found in notebooks found along the way, recorded on the message secretary and in group videos, which are an integral part of the game. If we manage to successfully complete all the tasks commissioned by Dark Cloud and unravel his dark secret, the game will reward us with one of several alternative endings.
Graphics of the game, made in SVGA resolution is a significant progress compared to the original binding of the original. Surround technology is also used in the production, providing excellent and suggestive sound effects. Guy Whitmore is again responsible for the soundtrack, although the singer and guitarist Jason Lindsey from the little-known American band Posted Oval also took part in the work on Shivers. The game comes with a soundtrack containing five original songs and a bonus track, which is a compilation of motifs from the first part of the game.
Please let us know if you have any comments or suggestions regarding this description.
Similar games:
Age Rating
age requirements: 12+
System requirements
PC / Windows
Recommended: 486 66 MHz, 12 MB RAM, 15 MB HDD, Windows 3.x/95