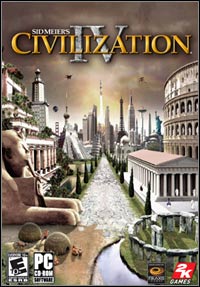 Game mode: single / multiplayer
Multiplayer mode: local network / Internet

game language: English
game release date for PC:
25October2005
Sid Meierís Civilization IV for PC is another installment in the cult strategy game series with a nearly fifteen-year long tradition, designed by one of the best designers that the industry has seen, Sid Meier.
Gameplay
In Sid Meierís Civilization IV the form of government is no longer imposed on the players; this solution was replaced with a user-friendly system that lets us apply individual laws and regulations. Thanks to this, the game allows us to, for example, create a harsh police state in which democratic elections may respected or not, depending on the playerís liking. Comfort and luxury, elements characteristic of the titleís predecessors, were also removed and replaced with "culture", which serves the exact same purpose and ó additionally ó influences the overall development level of our civilization. It is of great importance when we come into contact with other nations, which, by the way, finally learned the principle of border inviolability. By manipulating options offered by the diplomacy, we can completely separate ourselves from the opponent under the threat of war or allow them to freely trade within our countryís territory.
The game puts major emphasis on religion. Every nation that successfully discovers one of the most important spiritual movements establishes a holy city, which gradually expands its influence to other metropolises. The process can be advanced by employing missionaries. Of course, other civilizations will try to convince your people to their faith which can spawn the presence of numerous religious minorities in your dominion.
Sid Meierís Civilization IV offers new units (some of which are civilization-specific), nations (18 in total), inventions and resources that can be traded with other countries. The game also features an extensive multiplayer mode which can work in both a classic turn-based and a new real-time style. The solo gameplay only allows for the former.
The user interface was greatly simplified, thanks to which the primary map is no longer infested with useless icons. Firaxis Games provided a lot of so-called tooltips in their game, so that even a player who has never played a Civilization game before can easily obtain detailed information on each and every aspect of the game without having to read the manual or the so-called Civilopedia (a built-in encyclopedia that serves as a complete knowledge database).
Technology
Sid Meierís Civilization IV for PC underwent revolutionary changes in terms of graphics. The game is powered by the Gamebryo engine, technology previously used in Sid Meierís Pirates!, allowing the world map to contain a myriad of animated objects, for instance: animals that react lively to the development of subsequent metropolises. What is more, the player can now freely operate the camera that not only allows him to observe the land at any angle, but also to freely zoom in or out.

Game score 9.045 / 10 calculated out of 3645 players' votes.
Expectations before the premiere: 8.7 / 10 calculated out of 10 players' votes.
PEGI Rating
System requirements
Recommended: Pentium 4 1.8 GHz, 512 MB RAM, graphic card 128 MB (GeForce 4 Ti4200 or better), 1.7 GB HDD, Windows 2000/XP