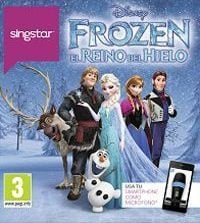 Game mode: single / multiplayer
Multiplayer mode: common screen
SingStar: Frozen, released on PS3 and PS4, is a special version of a popular music series released due to the popularity of an animated film under the same title (Frozen). Disney's production, which premiered in November 2013, quickly became the highest-grossing animation of all time and has received many prestigious awards and distinctions (including 2 Oscars and the Golden Globe). The soundtrack for the movie was equally popular, where we could hear Demi Lovato and other actors dubbing the cartoon characters.
Mechanics
In terms of gameplay, Singstar: Frozen doesn't differ from the main installment of the series released less than a few weeks earlier - on the franchise's tenth anniversary. So the fun is still about singing tracks as faithfully as possible, for which we are rewarded with a certain number of points. Compared to the previous parts of the series, the game introduced a whole lot of improvements such as experience points and special rewards for performing additional tasks, which further enrich the fun. According to the latest trends, the game has plenty of social options, allowing you to share your saved gameplay with your Facebook and Twitter friends.
Like its fully-fledged predecessor, the game makes use of the PlayStation camera to experiment with virtual reality and become a true star. The title is also compatible with the SingStar Mic application prepared for the previous edition, which will turn our smartphone with iOS or Android system into a professional microphone. Thanks to such a solution, a virtually unlimited number of people can participate in the game.
PEGI Rating
System requirements
Sony PlayStation 3
Uses: PlayStation Network, PlayStation Eye
Sony PlayStation 4
Uses: PlayStation Network, PlayStation Camera