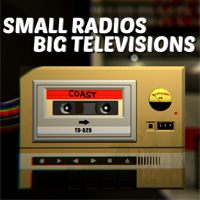 Small Radios Big Televisions is an experimental exploration logic game for PC and PS4 in which we seek cassettes that take us to other worlds. It was developed by Fire Face Corporation, a Canadian independent development studio founded by Owen Deery. The title's publisher and co-producer is Adult Swim Games that specializes in publishing unique indie games in the like of Jazzpunk or HeadLander.
Plot
Given the nature of the narrative, the plot of Small Radios Big Televisions most often has to be reconstructed by the players themselves. It is presented in the form of short dialogues between two friends that we hear between subsequent segments and levels of the production.
Mechanics
Small Radios Big Televisions combines several gameplay schemas. Our task is to find thirty cassettes that are hidden in old abandoned industrial buildings. These structures are observed from the third-person perspective, similarly to classical 2.5D platformer games. However, in the title, we do not control any character, instead, we can only move the camera and the cursor with which we select interactive objects. Sometimes, we have to solve simple logic puzzles. Our reward are the abovementioned cassettes that, once used, take us to unique alien worlds. These could be, for example, a mysterious forest, a desert, or a completely surreal place. There, the player's task is to find a hidden emerald that takes us back. To find this item, we often have to manipulate the game environment—for example, we need to magnetize the cassette which slowly destroys its contents and thus the world concealed within it. What's interesting, such process results in visual artifacts and other interesting graphic effects.
Technical aspects
The audiovisual layer of Small Radios Big Televisions for PC and PS4 is one of its main highlights. The stylized minimalistic graphics that uses spectacular filters can make quite an impression, especially given that the game was developed by only one person.
PEGI Rating
System requirements
PC / Windows
Recommended: lntel Core 2 Duo 2.0 GHz, 4 GB RAM, graphic card 1 GB GeForce GTX 560/Radeon HD 6870 or better, 400 MB HDD, Windows 7 64-bit
Minimum: lntel Core 2 Duo 2.0 GHz, 2 GB RAM, graphic card 2 GB GeForce GTX 275 or better, 400 MB HDD, Windows 7 64-bit