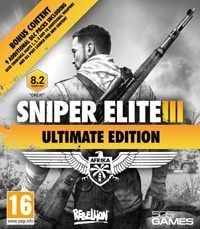 Game mode: single / multiplayer
Multiplayer mode: Internet
Sniper Elite III: Ultimate Edition is a complete edition of the third installment of the popular sniper shooters initiated by 2005's Sniper Elite: Berlin 1945 and developed by Rebellion. This game has been released for users of both 7th and 8th console generations (e.g. PS4, X360 and etc.).
Plot
The action of this game centers on World War II for its setting, however this time around our protagonist is sent to Africa, where in 1942 Germans are developing a new weapon able to crush the Allied Forces. Among all the people who can stop the Nazis from finishing their deadly weapon is Karl Fishbourne – a sniper at the United States Armed Forces' service. Our protagonist is sent to Africa, where he has to face elite Afrika Korps units supported by Tiger tanks, which spread terror among the opposing forces.
Mechanics
The gameplay mechanics in Sniper Elite III: Ultimate Edition do not differ so much from the predecessors' and features mainly assassinations of targets like high-profile enemy officers. When comparing Sniper Elite III to the previous installments of this series one can notice significantly larger maps with open structures, giving players more freedom in choosing the measures to undertake and execution methods best fitting the task at hand. A key gameplay element is the well-developed sniper mechanics. On higher difficulty levels, the bullet trajectory is influenced by such factors as wind velocity, wind direction and even gravity. The game also features a Sniper Elite series trademark: very impressive X-Ray camera, showing to the damage done by the player's bullets in the smallest detail.
Technical aspects
The PS4, X360 and etc. version of Sniper Elite III: Ultimate Edition includes, apart from the base game, 9 expansions released after the game premiere, featuring 3 parts of Save Churchill storyline, along with 6 weapon packs. The Ultimate Edition also offers additional multiplayer maps, new co-op mission and 2 new game modes: Capture the Flag and Shooting Range.
PEGI Rating