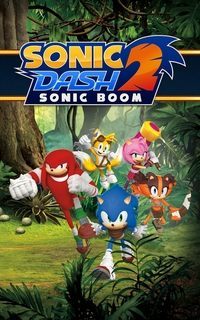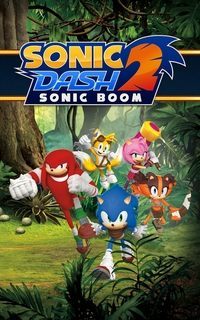 Sonic Dash 2: Sonic Boom
The second installment in a series of endless runners developed under the auspices of SEGA, specifically for mobile devices. The game uses the license of the Sonic Boom TV series (Cartoon Network).
Arcade | TPP | play for free | Sonic | auto-runner
Sonic Dash 2: Sonic Boom for AND and iOS brings a continuation to a best-selling endless runner game from SEGA, that featured one of its flagship characters – a sympathetic hedgehog called Sonic. The game was created specifically for mobile devices.
Plot
Contrary to its 2013's predecessor, Sonic Dash 2: Sonic Boom is set in the universe of the TV series Sonic Boom (Cartoon Network). Despite the fact that subsequent games based on said series were considered the worst in the entire franchise, the cartoon as such was quite popular and gained a massive fanbase.
Mechanics
In terms of the mechanics, Sonic Dash 2: Sonic Boom for AND and iOS does not bring any differences neither to the formula of the original game nor to endless runners as a genre. The game is played from a third-person view and the protagonist's goal (as well as his friends') is to cover the longest possible part of the route, which is filled with different obstacles and enemies. Apart from Sonic, the player gains access to other SEGA's characters (as well as characters from said TV series) alongside progression, including Knuckles, Tails, Amy and Sticks, who was not present in the predecessing game.
Similar to Sonic Dash, the follow-up is a free-to-play title. The player collects gold rings by filling a special bonus meter. Between subsequent approaches, the player can visit a shop in order to spend virtual or real money on new characters, upgrades for them, or different bonuses. Elements from the original game were included in the game, as well as completely new power-ups that come in handy in action.
Game mode: single player
App size:
Age restrictions Sonic Dash 2: Sonic Boom: Good for all ages.