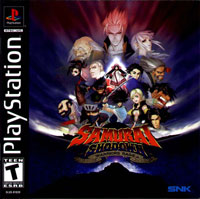 Samurai Shodown: Warriors Rage
PS1
Exclusively released on PlayStation 1, the next installment of a series of battles embedded in the realities of Japan's samurai time. The production is the first part of the series which uses 3D graphics.
Fighting | fighting game | Japan | Samurai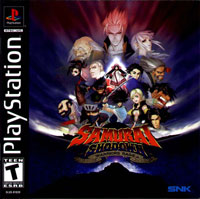 game language: English
game release date for PS1:
22December1999
Developed by SNK, the next installment of the famous fighting game series, in which clashes are fought by master warriors wielding various melee weapons. This is the first Samurai Shodown game to use 3D graphics.
Story
It is the beginning of the 19th century. On one of the Japanese islands, an organization of outcasts and criminals against the shogun is formed. Using dark powers and the situation in the country, the group is gaining a stronger position. The last hope for peaceful citizens are the samurai, who set out on the island with the mission to eliminate the leaders of the mysterious "Three Blades of Dominance" association. The story told in the game takes place twenty years after the events that were shown in previous Samurai Shodown.
Mechanics
In connection with the story, the devs from SNK decided to move only two familiar warriors to the world of Warrior's Rage, Haohmaru, and Hanzo Hattori. Both characters been modified and aged twenty years in the game world. Next to them, there are a dozen or so new heroes available to choose from, including defensive fighter Seishiro Kuki, ten-year-old Ran Po with a giant combat hammer or Rinka Yoshino armed with no-dachi sword.
The devs modified the battle formula and applied an innovative concept in the game, in which duels were not divided into rounds, but segments. Each battle has three phases, which start in turn when one of the warriors loses a certain number of health points. The transition between stages is symbolized by a short cut-scene or dialogue between warriors.
As in other games in the series, the combat system focuses on aimed blows, rewards the use of blocks and dodges, and a more tactical approach to duels. During the fight, participants charge a special POW bar, which enables them to launch a disarming attack, a deadly combo or a special move.
Game modes
The basic mode enables the players to face the evil organization that plans to take control of the world. Successful completion of the mode unlocks the Attack mode, where the players can perform various missions and collect points. These can then be used to unlock extras, such as art gallery, or to modify available characters.
Technical aspects
Samurai Shodown: Warrior's Rage is the first installment of the series to 3D graphics and 3D character models. At the same time, the devs did not resign from hand-drawn 2D backgrounds in the arenas. Japanese devs also used FMV inserts to tell the story.
Similar games:
Age Rating
age requirements: 16+