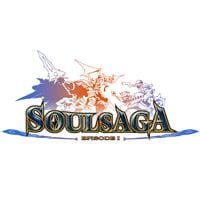 Soul Saga for PC, PS4 and etc. is a turn-based RPG inspired by the Japanese games of this genre that were released on the first generation of PlayStation. The title was developed by an American studio by the name of Disastercake.
Plot
The game takes place in a magic world called Oterra. Once it was a realm of happiness, but a giant cataclysm ended the welfare. It devastated the continents and brought a race of monsters called Inkheart into the world. Inkhearts started to gradually conquer the kingdoms. In the end the armies of evil were stopped by a great alchemist who disconnected the kingdom of Medonia from the ground and transformed it into an archipelago of flying islands. He placed a layer of magic clouds called Tempest Reef between the islands and the ground. The Tempest Reef is a barrier which the monsters cannot penetrate. The game starts three hundred years after that event. The spells which saved the humanity are beginning to weaken. A few smaller islands had already fallen down and the power of Tempest Reef weakens with each day. The player assumes the role of a young adventurer named Mithos who together with a group of companions is trying to find a corridor in the clouds which leads to the surface of Ottera. There, he will search for a way to save human civilization.
Mechanics
Soul Saga for PC, PS4 and etc. was designed as a tribute to Japanese role-playing games from the age of first generation of PlayStation and the developers were inspired by installments of such series like Final Fantasy, Breath of Fire, Suikoden and Persona. The gameplay concentrates on exploring the world, developing the characters and fighting in turn-based combat. The battles are initiated when player encounters monsters that patrol the map, which allows avoiding them if one is agile enough.
During the battles one must cleverly select attack types. For example, enemy with shield is resistant to attacks until one uses technique designed for penetrating through defensive items. However, if the shield was enhanced with fire magic, then the attacker will be set on fire. In order to avoid it, first one must use spell based on water element. By using it one can temporarily put the fire down and perform the attack safely. Another way of dealing with such opponent is using electricity magic which will be conducted on the enemy by the metal parts of the shield. The game contains hundreds of such dependencies between powers, spells and equipment and they add much depth to the tactical aspect of combat.
System requirements
PC / Windows
Recommended: Dual Core 2.0 GHz, 2 GB RAM, graphic card 1 GB GeForce GTX 460 or better, 6 GB HDD, Windows XP/Vista/7/8/10 64-bit
Minimum: Intel Pentium 4 2.0 GHz, 2 GB RAM, graphic card Intel HD or better, 6 GB HDD, Windows XP 64-bit