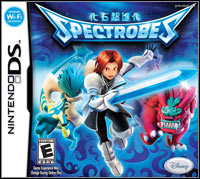 Spectrobes
NDS
Spectrobes is a cRPG game, prepared in the style of Far East anime. The game resembles the popular Pokemon series items because it involves creating a team of faithful creatures around the user and sending them into battle.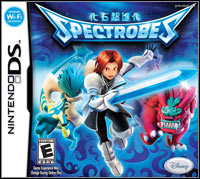 Game mode: single / multiplayer
Multiplayer mode: local network, players: 1-2

game language: English
game release date for NDS:
06March2007
Spectrobes introduces two junior Planetary Patrol officers named Rallen and Jeena who learn of strange, prehistoric creatures called Spectrobes that possess special powers. These Spectrobes hold the key to defeating a vicious and merciless force, known only as the Krawl, that threatens to destroy the galaxy.
* Real-Time Battle Action – Rallen and two allied Spectrobes take on the enemy Krawl in exciting real-time battles. Each Spectrobe can unleash a special attack and combine forces for a combo attack.
* Excavation – Players will find and collect new Spectrobes and items by searching for fossils. When a fossil is found, players will use the stylus to excavate in the lower screen by using a variety of tools. Blowing air into the microphone will help clear the dust off during excavation.
* Training and Customization – The freshly excavated Spectrobes can evolve into more powerful, fully grown versions through training. Players will use their voice to awaken Spectrobes. Different virtual environments will be selected to evolve and train Spectrobes in order to customize their appearance and capabilities.
* Wireless Community and Multiplayer Gameplay – Exchange Spectrobes and items wirelessly with other players. Download exclusive collectibles. Battle against friends in one-on-one ad-hoc wireless tournaments.
The two heroes embark on a mission to save their galaxy – to do so they must excavate, awaken, train and collect all the Spectrobes they can and battle to defeat the Krawl.
PEGI Rating