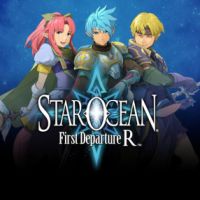 Star Ocean: First Departure R is another remaster of a game released in 1996, after the PSP version, created by Square Enix studio. This version is a remaster of a classic representative of the jRPG genre.
Plot
Star Ocean: First Departure R takes place in the 346th year of space. The crew of the Terran Federation ship is landing at Roak. Their mission is to fight a virus sent by the Lezonians that can kill life on the planet. A group of indigenous people, the Fellpools, join the search for a cure. Together they will try to stop not only the illness, but also the galactic war, which soon may destroy all life forms.
Mechanics
During the game, players take control of a group of heroes and visit dozens of locations. A maximum of eight team members can be recruited. Due to the fact that the recruitment of a given member is dictated by the decisions made during the game, it is not possible to assemble the whole team in one playthrough.
While exploring the world, players talk to the characters they meet, some of whom give advice on how to proceed and others commission new tasks.
An important part of the Star Ocean: First Departure R is combat in which guns and magic are used. It takes place in real time. The player controls only one character. The rest of the team is controlled by artificial intelligence, which employes tactics according to the chosen attitude.
Technical aspects
Like the original, Star Ocean: First Departure R offers isometric view gameplay. Compared to previous releases of the game, the quality of visuals has been improved.
Age Rating
age requirements: 12+