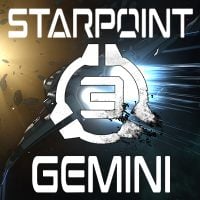 game language: English
game release date for PC:
2021
Starpoint Gemini 3 is a production that combines elements of different genres, such as action RPGs and space simulators. Game offers an extensive world to explore, an attractive audiovisual setting and an interesting atmosphere. The title is the third part of the cycle started in 2010 and was developed by the artists responsible for all previous editions - Croatian independent studio Little Green Men.
Plot
Starpoint Gemini 3 takes place in the classic world of science fiction, where travel and spacecraft play an important role - more specifically, in the Gemini system and two others near it. The player takes on the role of a clever captain named Jonathan Bold.
Mechanics
In Starpoint Gemini 3, the gameplay is primarily about exploring a vast, open world of three planetary systems. While travelling, we perform tasks (both side tasks and those belonging to the main plot) and undertake various additional activities. As the game progresses, we develop our hero's skills and acquire new equipment (e.g. new ships and numerous parts for them).
In addition to the larger galaxy, Little Green Man's production also introduces some other new features - for the first time in the series' history, for example, we have the opportunity to talk to independent heroes we meet at various space stations; they are the primary source of new orders. In addition, we have at our disposal a throne, thanks to which we can explore many places, for which the spacecraft is too big.
Starpoint Gemini 3 also offers a dynamic, dexterity combat system that allows for spectacular clashes at the helm of a star fighter.
Game modes
In Starpoint Gemini 3 we can only play on our own - the basis of the game is a feature campaign.
Technical aspects
Starpoint Gemini 3 has a very attractive three-dimensional graphic design. The phenomenally depicted cosmos, full of breathtaking views, beautiful stars and planets, looks particularly good. The designs of individual stations and spacecraft are also interesting, both when seen from the outside and when we get on board. Character models look a bit worse - although their projects do not lack climate, animations (e.g. faces) could certainly be better.

Expectations: 3.0 / 10 calculated out of 3 players' votes.
System requirements
PC / Windows
Minimum: Intel Core i5-4690 3.5 GHz / AMD FX-4350 4.2 GHz, 8 GB RAM, graphic card 3 GB GeForce GTX 780 / Radeon R9 280X or better, 45 GB HDD, Windows 8/10 64-bit