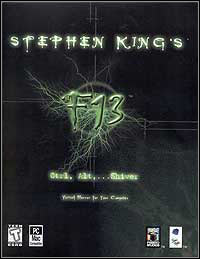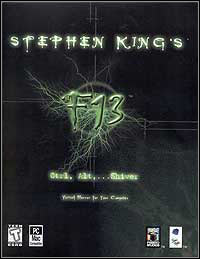 Stephen King's F13
PC
A collection of black humorous mini-games, wallpapers, sounds and screensavers signed by the master of horror movies.
Stephen King's F13

Release Date PC

22January2000
developer: Ubisoft Blue Byte publisher: Ubisoft Blue Byte Official website

game language: English
The creators of excellent adventures from The Journeyman Project series decided to try their hand at a completely new convention. They invited Stephen King, one of the most popular American writers of the 20th century, to cooperate with them. According to the intention of the publisher - Blue Byte Software - the package was to be addressed mainly to fans of prose by the author of such bestsellers as "Salem" and "The Shining".
Stephen King's F 13 package includes three mini-games. No Swimming is a specific aquarium simulator with piranhas and the player's task is to feed his charges with different animals. Whack-A-Zombie is a computer variant of the well-known Whack-A-Mole game machines, in which the moles have been replaced by zombies and dice. The highest playability is offered by Bug Splat. In this case, the essence of the game is to kill vermin using weapons such as newspapers and fly wrappers.
The set is complemented by collections: 10 climate desktop wallpapers, 20 sound effects and 7 screensavers in the form of short films. The Master of Horror's Contribution is an unpublished story "Everything's Eventual", which has been added to the package in the form of an e-book.
It is worth noting that the name Stephen King's F13 refers to a function key, which does not appear on keyboards adapted to work with PCs, and in macs (although not all of them) is most often used to take screenshots.
Please let us know if you have any comments or suggestions regarding this description.
Game mode: single player
Age restrictions Stephen King's F13: 16+
Stephen King's F13 System requirements
Recommended:
Pentium 166 MHz
16 MB RAM