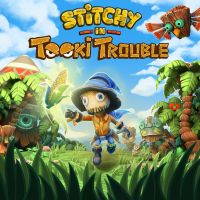 Stitchy in Tooki Trouble
Switch
A 2.5D platform game inspired by the cult Donkey Kong. In Stitchy in Tooki Trouble we take on the role of scarecrow, who is trying to recover stolen corn. Stitchy dashes to the right, jumps on platforms and avoids traps, as well as eliminates hordes of enemies.
Arcade | platform | indie games | 2.5 D | side-scroll | Nintendo exclusive titles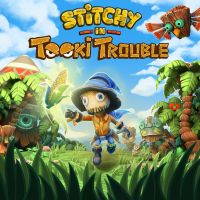 game language: English
game release date for Switch:
15April2021
Stitchy in Tooki Trouble is a platformer inspired by the genre's classics, led by the cult Donkey Kong. The game was developed by Polygoat, an independent Belgian studio.
Plot
The main character of Stitchy in Tooki Trouble is a scarecrow named Stitchy. When his cornfield is plundered by an army of wooden creatures called Tooki, the protagonist has no choice but to chase the thieves.
Mechanics
Stitchy in Tooki Trouble is a side-scrolling game. There are three worlds to visit, each of which consists of nine levels. They are varied in terms of visuals and the challenges and attractions waiting for us. Stitchy's adventure leads him through a jungle, a stormy sea, an ice-covered land, mines (where he travels in a carriage on rails) and the gloomy Tooki factory.
During the game we dash to the right, jump on platforms and avoid numerous traps, as well as, of course, collect corn scattered along the way. Numerous enemies prevent us from doing so. Although Stitchy can deal with standard opponents by jumping on their heads, access to subsequent worlds is guarded by bosses, which require a bit more effort to defeat. In addition, hidden stages full of valuable secrets await discovery in each world.
Technical aspects
Stitchy in Tooki Trouble has colourful, cartoon-like graphics made in 2.5D technique. The gameplay is accompanied by a soundtrack that creates the atmosphere of a fairy-tale adventure.
Similar games:
Age Rating
age requirements: everyone