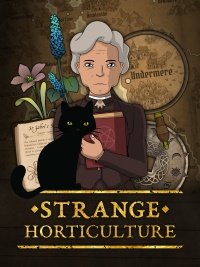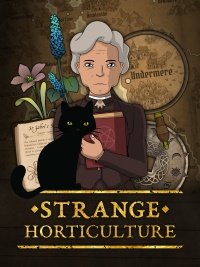 Strange Horticulture
Strange Horticulture is an adventure simulator with puzzle game elements, in which we run a flower shop and help locals looking for unusual plants with specific properties. We also meet or face cultists and solve puzzles.
Adventure | point-and-click | logical elements | 2D | indie games
Strange Horticulture is an unusual simulator with puzzle game elements, in which we run an unusual flower shop. The game was developed by Bad Viking studio and published by Iceberg Interactive, which players may know as the publisher of some games from the Endless series and Killing Floor.
Plot
Action of the game takes place in Undermere, a fictional English Victorian-style town located in a forest inhabited by witches. Also, the flower shop managed by the heroine is not an ordinary place: she sells various plants with unusual properties. This is why the store is visited by many locals looking for help in more or less suspicious ventures. So, willingly or unwillingly, the heroine happens to be part of events that would miss the owner of a "normal" flower shop. For example, the activities of a mysterious cult.
Game mechanics
Strange Horticulture is a game designed to be played through multiple times. We run a flower shop full of unusual plants that we find in different neighborhoods and sell to locals in need, occasionally solving simple puzzles. Or we stroke the cat, if we so choose.
Seemingly uncomplicated gameplay is made more complex by several factors. First of all, the game gives us a lot of freedom. We can give plants any label and it depends only on us which of them we'll sell to people visiting our place. We also decide where to go in search of new specimens.
At the same time the game is full of clues. Deciphering them depends on whether we correctly identify plants, whether we go to a safe or risky location, etc. Also the plot of the game we learn in this way, discovering the dark secrets of Undermere thanks to more or less hidden clues.
Ultimately, each decision has consequences for the inhabitants of Undermere and can lead us to another of the numerous endings of Strange Horticulture. Fortunately, there is no time limit in the game, so we can safely devote ourselves to unusual gardening.
Technical aspects
Strange Horticulture features simple, yet stylish hand-drawn graphics. We will not find many spectacular scenes in the game, but we will read a lot of text stylized in handwriting.
Last updated on 10 January 2023
Game mode: single player
User score: 8 / 10 based on 1 votes.
Age restrictions Strange Horticulture: 12+
Strange Horticulture System requirements
Minimum:
Intel Core 2 Duo 2.4 GHz
1 GB RAM
graphic card 512 RAM GeForce 8800 or better
1 GB HDD
Windows 7