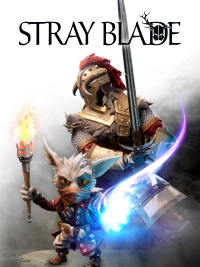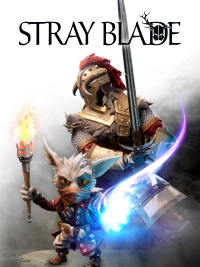 Stray Blade
A TPP Action RPG, in which we play as an adventurer traversing the Lost Valley of Acrea. Stray Blade features colorful locations and dangerous opponents faced in dynamic, flashy combat.
RPG | TPP | fantasy | indie games | action RPG
Stray Blade is an action RPG set in a colorful land full of secrets and dangers. It was developed by an independent German studio Point Blank Games and published by 505 Games.
Plot
Stray Blade is set in the Lost Valley of Acrea, a legendary place which fell from grace, its power built up by the God-Kings gone due to devastating wars. The main protagonist manages to find the valley, but pays for it with his life. Soon, however, he returns to the living, bound to this land forever. To regain freedom he must destroy relics of the past and restore balance in the valley. During his quest he's accompanied by his faithful companion Boji.
Mechanics
Stray Blade makes use of the third-person perspective (TPP). The player discovers the secrets of the valley, traversing dense forests, monumental ruins, gloomy caves and massive canyons. On our quest we'll also face many enemies in dynamic battles. Combat emphasizes speed and dexterity, requiring near-instant blocking, dodging and countering enemy attacks. Aside from regular opponents we'll also face the God-Kings themselves. Though mighty, they're not invincible, each victory rewarding us with the King's power.
As we progress through the game, we develop our adventurer and his companion. Curiously, they gain experience in different ways. While the playable character grows stronger by defeating enemies, Boji does by learning ancient knowledge. Over time, both characters acquire new abilities. Throughout the game we also gain resources, which we can use to craft better equipment.
We must also remember the valley is constantly changing due to our actions. Additionally, acquired skills and equipment unlock access to previously inaccessible areas. For this reason it's worth it to revisit locations, finding new secrets and challenges.
Technical aspects
The visuals of Stray Blade make use of a colorful, cartoonish artstyle somewhat reminiscent of Kingdoms of Amalur: Reckoning.
Last updated on 20 April 2023
Game mode: single player
Age restrictions Stray Blade: 16+
Stray Blade System requirements
Minimum:
Intel Core i7-6700 3.4 GHz / AMD FX-9590 4.7 GHz
8 GB RAM
graphic card 4 GB GeForce GTX 1050 Ti / 8 GB Radeon RX 480 or better
30 GB HDD
Windows 10 64-bit
Recommended:
Intel Core i9-9900K 3.6 GHz / AMD Ryzen 5 5600X 3.7 GHz
12 GB RAM
graphic card 8 GB GeForce RTX 2070 / 16 GB Radeon RX 6800 XT or better
30 GB HDD
Windows 10 64-bit