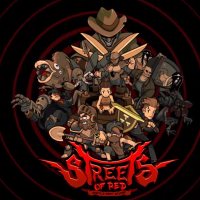 Game mode: single / multiplayer
Multiplayer mode: common screen, players: 1-4
Streets of Red: Devilís Dare Deluxe is an arcade beat'em up game with roguelike elements. The game was developed by the independent Secret Base from Singapore.
Mechanics
During the game, players are taken to a world overrun by different monsters, zombies, ghosts, and murderers. The player assumes the role of one of the available characters who try to survive in this place for as long as possible. This, however, is not the main objective, as one constantly has to beat new records. In general, Streets of Red: Devilís Dare Deluxe is a classic beat'em up game, nonetheless, the developers have implemented the permanent death system that forces players to restart the game whenever they die.
Even though players are faced with a great challenge, each time they start over they learn something new, familiarize themselves with the characters and their powers. Initially, one has access to four characters - Kingston, Queenie, Jackson, and Axel. The next two characters can be unlocked during the game. Each one has a unique set of blows and development tree. In order to grow stronger, one has to acquire the in-game currency. Killing all the monsters is merely enough. Of course, dead opponents drop coins, but that is not much. It is different if one performs a special combo Ė the so-called fatality, i.e. a brutal finishing blow that ensures more money. It is even better if this combo is performed on three foes at once, as the player gets food to replenish his or her health. The better players are in combat, the more often they can perform combos which results in earning more money, purchasing more powers, increasing the damage dealt, and earning even more. Interestingly enough, the money can also be used to revive a fallen hero. Should the player run out of money, he or she loses everything and has to start the game over.
Game modes
Streets of Red: Devilís Dare Deluxe allows the players to play on their own as well as with up to three other players through the local co-op mode. In such case, players do not fight only monsters, but other players to get more points. Moreover, the game features a dynamic difficulty scaling system Ė the more players, the more difficult the opponents are to defeat.
Technical Aspects
Streets of Red: Devilís Dare Deluxe is a 2D production resembling games from years past. Additionally, the developers have used a limited color palette that intensifies the grim atmosphere of the in-game world.
Age Rating
age requirements: 16+
System requirements
Minimum:
Dual Core 1.6 GHz
2 GB RAM
graphic card 896 MB GeForce GTX 260 / 512 MB Radeon HD 4870 or better
750 MB HDD
Windows 7 64-bit
Recommended:
Dual Core 2.2 GHz
4 GB RAM
graphic card 1 GB GeForce GTX 460 / Radeon HD 6850 or better
1 GB HDD
Windows 7 64-bit