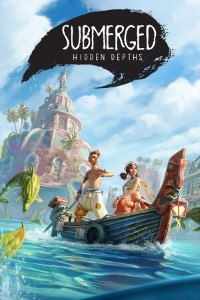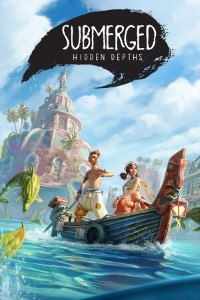 Submerged: Hidden Depths
Submerged: Hidden Depths is a sequel to the exploration adventure game set in a post-apocalypse water world. We learn the further part of the siblings' story from the first game, exploring beautiful locations in a relaxing, stress-free gameplay.
Adventure | TPP | Post Apocalypse | indie games | exploration games |
Submerged: Hidden Depths is a sequel to the 2015 exploration adventure TPP game. The second part of Submerged was developed as an exclusive title for the Google Stadia service, but was later released on other platforms as well. The game was developed and published by the independent studio Uppercut Games.
Plot
In the sequel to Submerged we come back to the postapocalyptic world, but it doesn't have much in common with the popular post-nuclear visions. Here, the end of civilization was brought by a gigantic flood. Once again, we follow the fates of siblings Miku and Taiku. After the events of the first game, the protagonists must deal with a curse that has engulfed the whole world and may separate them forever.
Mechanics
Just like the previous installment, Submerged: Hidden Depths is a third-person adventure game focused on exploration. In the game we won't find any enemies and therefore no fighting. The fun comes down to exploring the beautiful, submerged game world, solving puzzles and finding secrets. The whole game was designed not to be a challenge but a relaxing adventure. However, it's not just a walking simulator - the gameplay includes simple platform sequences and the aim of the game is to clear the subsequent locations of the strange blemish that plagues the whole world. To do so, we have to find a seed and deliver it to a special place.
All this also gives a closer look at the plot of the game, while a large part of the activities is optional. Diaries of the survivors of the cataclysm, which are the only written evidence of the events of the past, are scattered around the game world. The rest must be told from the relics, which eventually end up in a kind of museum in our base.
Technical aspects
In terms of graphics, Submerged: Hidden Depths is similar to the previous installment, but the authors have significantly improved the visuals. The game world - although de facto postapocalyptic - is full of colors and beautiful views. The calm, relaxing atmosphere of the game is highlighted by the music, based mainly on piano and string compositions. There are dialogues in the game, but the characters use a fictional language, although it is easy to understand their intentions by their gestures and facial expressions.
Last updated on 27 January 2022
Game mode: single player
Age restrictions Submerged: Hidden Depths: Good for all ages.
Submerged: Hidden Depths System requirements
Minimum:
Quad Core 3.0 GHz
6 GB RAM
graphic card 3 GB GeForce GTX 780 / 2 GB Radeon R7 260X or better
12 GB HDD
Windows 10 64-bit
Recommended:
Eight Core 3.2 GHz
8 GB RAM
graphic card 6 GB GeForce GTX 1060 / 8 GB Radeon RX 580 or better
12 GB HDD
Windows 10 64-bit