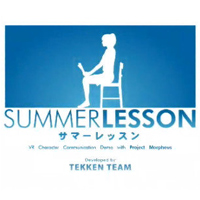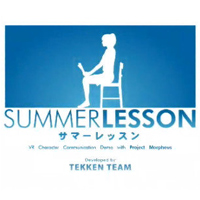 Summer Lesson: Miyamoto Hikari Seven Days Room
PS4
A simple adventure game by Bandai Namco Entertainment, developed for PlayStation VR, at first as a technology demo. In Summer Lesson you play as a teacher, who's tutoring two independent heroines. One of them is a Japanese high-schooler who needs help with her English.
Adventure | FPP | PlayStation VR | virtual reality | PlayStation exclusive titles
Summer Lesson: Miyamoto Hikari Seven Days Room

Release Date PS4

13October2016
developer: Bandai Namco Entertainment publisher: Bandai Namco Entertainment Official website

game language: English
Summer Lesson: Miyamoto Hikari Seven Days Room is a three-dimensional communication game for PlayStation VR goggles, where we play a teacher giving summer tutorials to a Japanese high school student. The game was first introduced in 2014 as a tech demo, presenting the capabilities of VR technology on PlayStation 4. The development team from Bandai Namco is responsible for its production. The title is directed by Katsuhiro Harada, the creator of the Tekken series.
Mechanics
The action of the game was presented from the perspective of the first person. Players take on the role of a teacher who spends the summer with Hikari Miyamoto, a Japanese high school student who needs help in learning English. We meet with our client in her small room.
The gameplay is extremely uncomplicated and interactions with the virtual world are limited to making a few gestures. From time to time, Hikari asks us a question that we answer "yes" or "no", nodding or twisting our heads. In some moments we also choose one of the several available options, looking at the floating icons in the air. The creators have prepared several sets of DLC, which include optional costumes for the heroine, as well as new scenarios. We visit completely new places such as the traditional shinto temple and together we take part in a series of physical exercises.
Technical aspects
Graphic in Summer Lesson: Miyamoto Hikari Seven Days Room are powered by Unreal Engine 4, offering high quality special effects and animations. Since the creators used only two locations, they filled them with a large number of details, which gave the whole thing a considerable dose of realism. The game requires PlayStation VR virtual reality goggles to work.
Game mode: single player
Age restrictions Summer Lesson: Miyamoto Hikari Seven Days Room: Good for all ages.
Summer Lesson: Miyamoto Hikari Seven Days Room System requirements