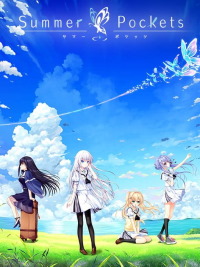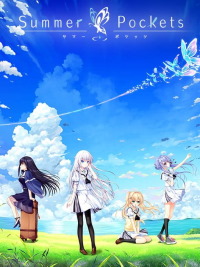 Summer Pockets
Summer Pockets is a Japanese visual novel developed by Key studio. We play as a young man who moves to a small island town. While there, he meets some unusual girls with whom he will spend an unforgettable summer.
Summer Pockets
Release Date
Summer Pockets is an visual novel adventure game. It was developed by the Key team, which is one of the most famous studios specializing in visual novels, also known for such productions as Kanon, Air, Clannad or Little Busters!
The project debuted in Japan on PC in June 2018, and a few months later came to iOS and Android mobile systems. Then in 2019, the Nintendo Switch console edition was released. Only the PC edition received an English-language version (in 2020).
Plot
The action of the game takes place on a fictional island located in the Seto-naikai, or Seto Inland Sea. The player takes on the role of a young man named Hairi Takahara, who arrives there after his grandmother's death to take care of her inheritance. In doing so, he abandons his previous life, which has become difficult to bear as a result of a certain incident.
On the spot, the protagonist is able to get to know the residents of the town of Torishirojima, including several young girls, relationships with whom are the main focus of the plot. Among them are Shiroha Naruse, who has lost her memories of her last vacation, Ao Sorakado, who is researching local legends, Kamome Kushima, who is looking for a pirate shipwreck, and Tsumugi Wenders, who is just trying to figure out a way to live her life.
Mechanics
Summer Pockets is mostly faithful to the tradition of visual novel adventure games. We are mainly discovering the plot and taking many decisions. The story is strongly non-linear. The initial choices steer it into one of several alternative paths, each of which revolves around the relationship with a different character. Then, within a given path, there are also many different variations of events, leading to one of several endings. This structure makes it necessary to play through the game multiple times if you want to see everything it has to offer.
The gameplay, typical of visual novels, is enriched by mini-games which test both our dexterity and cleverness. We can play table tennis and an extensive Islamon card game, among others. Victories and failures in these challenges affect the development of the plot and relationships with many characters.
Game modes
The game offers a single player mode only.
Technical aspects
Summer Pockets graphics is typical for this genre. So we get 2D backgrounds and characters sprites, enriched with occasional animations. However, the whole thing is very well done and both the character designs and the locations are pleasing to the eye with details and effectively support the atmosphere of the story.
The main artist was Na-Ga, who played the same role in Little Busters! In turn, the main composer was Jun Maeda, the author of music for most of Key studio's games.
Game mode: single player
Age restrictions Summer Pockets: 16+
Summer Pockets System requirements
Minimum:
Intel Core 2 Duo
2 GB RAM
graphic card 256 MB GeForce 7600 or better
8 GB HDD
Windows 8.1/10
Recommended:
Intel Core 2 Duo
4 GB RAM
graphic card 256 MB GeForce 8600 or better
8 GB HDD
Windows 10