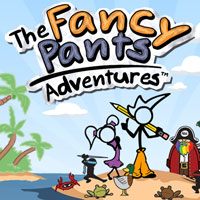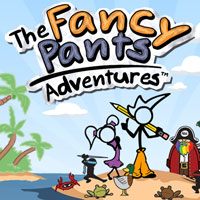 Super Fancy Pants Adventure
A two-dimensional platforming game in which players take on the role of a hero who flies through levels at a dizzying pace, bypassing obstacles and eliminating enemies standing in his path.
Arcade | platform | 2D | arcade elements | side-scroll
Super Fancy Pants Adventure is the result of more than ten years of development of the series originating from an extremely popular browser game created by Brad Borne.
Mechanics
As it was the case with earlier installments of the cycle, a characteristic feature of Super Fancy Pants Adventure is the incredibly fast pace of the game. The protagonist of this side-scrolling platformer travels across through fifty-six different levels, jumping across platforms, avoiding ubiquitous traps, slipping on surfaces and bouncing off elements of the environment. He can use a fether, with the help of which he eliminates opponents standing on his way, waving it like a sword or shooting like a machine gun. In addition to monkey dexterity and reflexes, the game rewards perceptiveness - in the world of the game you can find fragments of underwear and hats for our hero and passages leading to levels that offer optional challenges for the most persistent players.
Technical aspects
Super Fancy Pants Adventure features two-dimensional graphics, which thanks to their original design can please even despite their simplicity. Separate mention should be made of a very good physics engine and a smooth animation of the main character.
Last updated on 19 January 2018
Game mode: single player
Age restrictions Super Fancy Pants Adventure: Good for all ages.
Super Fancy Pants Adventure System requirements
Minimum:
Intel Core i3 2.5 GHz
2 GB RAM
200 MB HDD
Windows 7/8.1/10 64-bit