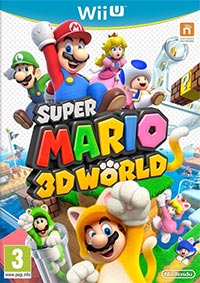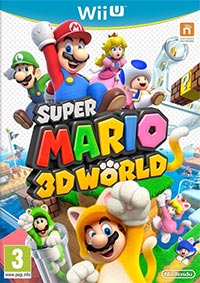 Super Mario 3D World
WiiU
The fifteenth installment in the Super Mario arcade game series created by Nintendo, and the first one designed for Wii U. In terms of gameplay mechanics the game is a light-hearted 3D platformer, in some moments resembling a classic side-scrolling arcade game.
Arcade | 3D platformers | Mario | co-op | Nintendo exclusive titles
Super Mario 3D World

Release Date WiiU

22November2013
developer: Nintendo publisher: Nintendo Official website

game language: English
Super Mario 3D World is the fifteenth title in the arcade game series Super Mario, created by Nintendo, and the first one designed for Wii U. The game consecutively develops the solutions used by its predecessors, especially Super Mario 3D Land released on 3DS in 2011.
Gameplay
Just as the aforementioned title, this one too is a light-hearted 3D platformer, sometimes resembling a classic side-scrolling arcade game. You run through colorful, linear locations filled with obstacles, opponents, and simple logic puzzles. At the beginning of each level you get to pick one of four characters; the remaining three are controlled by AI. You can choose from Mario, Luigi, Princess Peach, and Toad. Each of them possesses unique skills, e.g. Luigi can jump higher than the others and Toad is a fast runner. Apart from the aforementioned environmental obstacles, the locations contain lots of collectibles, such as coins and power-ups. As for the latter, there is a brand new power-up - a bell that changes your character into a cat. This form allows you to move faster, be a more effective fighter, and climb to reach otherwise unavailable areas.
Technology
Super Mario 3D World on WiiU features a visual style similar to what we know from the recent games in the series. However, thanks to the potential of the new platform, the game's graphic is more detailed and features more visual effects. Speaking about technology, it should be mentioned that Super Mario 3D World uses the Wii U controller's touchscreen for such actions as revealing the invisible blocks hiding extra coins, or even weakening your opponents. Additionally, the game also supports Off-TV Play, letting you play using only the console's touchscreen.
Multiplayer
As mentioned before, other characters in your party are usually controlled by the AI, but you are free to invite up to three friends to play with you. Together you can race through the levels and help each other out. It is also possible to test your skills in the PvP mode.
Last updated on 28 August 2013
Game mode: single / multiplayer Multiplayer mode: Player counter: 1-4
User score: 8,1 / 10 based on 960 votes.
PEGI rating Super Mario 3D World