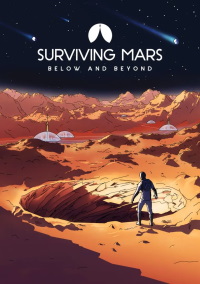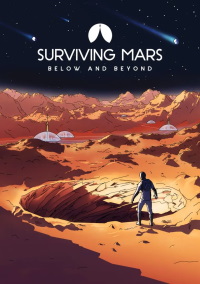 Surviving Mars: Below and Beyond
Surviving Mars: Below and Beyond is another expansion to the space economic strategy in which we develop a Martian colony. This time Haemimont Games and Abstraction Games studio allowed us to establish underground cities and exploit asteroids.
This is Surviving Mars expansion pack.
Strategy | science fiction | Economic | sandbox | Colonization | city builder
Surviving Mars: Below and Beyond is another DLC to the sci-fi economic strategy. The game was developed by the authors of the basic version of the game - Haemimont Games and Abstraction Games studios and with the support of Paradox Interactive.
Mechanics
So far Surviving Mars focused on expansion on the surface of Mars and changing it into a more friendly place for humanity. With Below and Beyond, the developers went in a different direction: underground. Digging on the Red Planet is what this content pack is all about. The DLC even allows you to establish underground colonies, both in excavated tunnels and naturally formed caves. Settlements set up in this way are not affected by meteor showers or dust storms, and also provide more space. However, it is better to be careful, so that unskilled digging does not bury our constructions (and people) under a heap of rubble. Underground we will also find natural wonders (and not only), which can be extremely valuable for the colonists.
Below and Beyond is not limited to digging on Mars. Colonists can also try to extract valuable, otherwise inaccessible resources from passing asteroids, which can be a great help - as long as we don't forget to retreat the expedition in time, before the celestial body flies out of orbit with our miners.
Access to these novelties is provided by newly introduced buildings, inventions, etc., which are part of the new Scouting and Expansion tech tree. The developers have also modified some of the existing content to make it easier to travel underground and to asteroids, which will also help to develop colonies on the surface of Mars.
Free update
With the debut of Below and Beyond, the basic version of Surviving Mars also received a new update with free content. This included the Amphitheatre, a new and cheap building providing recreational, social and luxury services. There have also been updates to the game interface (including additional resource information) and a number of small but helpful improvements, including the ability to change the research queue without starting over and the option to block new births. In addition, the gameplay balance has been improved.
Game mode: single player
PEGI rating Surviving Mars: Below and Beyond
Surviving Mars: Below and Beyond System requirements
Minimum:
Intel Core i3-4150T 3.0 GHz
4 GB RAM
graphic card 1 GB GeForce GT 620 / Radeon HD 6450 or better. 6 GB HDD
Windows 7 64-bit
Recommended:
Intel Core i5-5287U 2.9 GHz
8 GB RAM
graphic card 4 GB GeForce GTX 750 Ti or better
6 GB HDD
Windows 7/8/10 64-bit