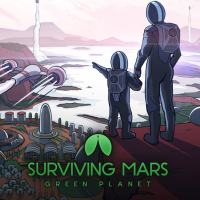 Surviving Mars: Green Planet
Surviving Mars: Green Planet is a further expansion to the strategic city builder that gives the player the opportunity to green Mars so that it becomes the second largest cradle of population after Earth.
This is Surviving Mars expansion pack.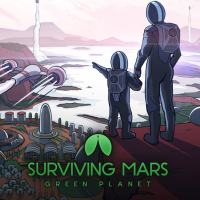 Surviving Mars: Green Planet is the second big expansion to city builder game Surviving Mars created by Haemimont Games studio. The add-on focuses on terraforming and greening the Red Planet with new tools and buildings.
Mechanics
Surviving Mars: Green Planet gives the player new tools and possibilities with which he can gradually transform the desert areas of Mars into areas full of various vegetation, making the atmosphere on Mars friendly to humans and allowing them to breathe freely. There are, however, some consequences. Any decisions we make affect the terraforming parameters such as the above-mentioned atmosphere, water, temperature, and vegetation status, which, if poorly managed, can lead to corrosive acidic rain or other unpleasant consequences.
Greening of Mars is a mass planting of various vegetation of grass or trees, mosses, and lichens - at the same time improving soil fertility. Some plants not only make the environment more pleasant or contribute to the production of oxygen but also become a source of profit. This is facilitated by new types of buildings adapted to new requirements e.g. a water pump or a factory producing greenhouse gases.
The add-on also offers Special Projects, where players can focus on catching ice asteroids or melting ice caps, and much more. Each of the projects has a permanent impact on the functioning of the planet and may become a source of natural disasters.
Technical aspects
With the release of the add-on, developers have promised a free update to improve the basic core of gameplay to improve the playability of the entire game.
Similar games:
PEGI Rating
System requirements
PC / Windows
Recommended: Intel Core i5-5287U 2.9 GHz, 8 GB RAM, graphic card 4 GB GeForce GTX 750 Ti or better, 6 GB HDD, Windows 7/8/10 64-bit
Minimum: Intel Core i3-4150T 3.0 GHz, 4 GB RAM, graphic card 1 GB GeForce GT 620 / Radeon HD 6450 or better, 6 GB HDD, Windows 7 64-bit