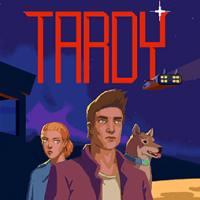 Tardy is an independent point-and-click adventure game from One Wing Man studio, in which we are forced to cope with the repair and maintenance of foreign technology in the form of various machines and devices.
Plot
In an alternative universe, the evil Confederacy harasses the attacks of free planets. A ship called The Wall sets out to rescue them. In the game we play Ramty, who wants to take advantage of the opportunity to go on a stowaway on board the ship, and additionally closes himself in a cryogenic chamber.
When it finally awakens, it turns out that the whole crew has disappeared somewhere. Ramty decides to find out what happened and find his way home. In order to do so, he has to familiarize himself with the various machinery available on board and learn how to operate it.
Mechanics
Tardy is a point-and-click adventure game in which we visit locations, collect necessary items, solve riddles and gradually learn about history.
Puzzles are mainly based on interacting with various elements of machines and devices. All the buttons, switches and other controls shown in the game can be pressed, rotated and pulled in an attempt to crack the rules of their operation. For help in this come to us numerous notes left by the members of the crew.
In the game there was no shortage of collecting items and combining them with each other or with other objects, which is associated with a rather unusual approach to equipment. All things can be moved from it to the main screen and left anywhere in the game world.
Unlike most adventure games that give us access to multiple locations at once, Tardy focuses on one of them until we have solved all the puzzles on it and clicked on characteristic places that will take us forward. Only then do we gain access to the adjacent location.
Technical aspects
The world presented in Tardy is two-dimensional and in the style of pixel art. Most of the areas visited have movable background elements deepening the immersion of the world - be it a dog following us or a shaking image on one of the monitors. The whole is emphasized by climatic music, increasing the feeling of loneliness and melancholy.
Similar games:
Age Rating
age requirements: 16+
System requirements
PC / Windows
Minimum: Dual Core 2.0 GHz, 1 GB RAM, graphic card Intel HD or better, 250 MB HDD, Windows XP SP2