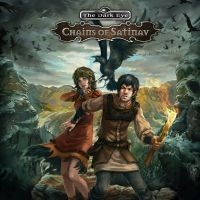 The Dark Eye: Chains of Satinav is a classic fantasy adventure game based on the popular tabletop RPG Das Schwarze Auge. The game was developed by Daedalic Entertainment also known for working on such adventure games as The Whispered World and Edna & Harvey: The Breakout.
Plot
Players assume the role of a nineteen-year-old Geron who is accompanied by Nuri – a fairy. Each hero can cast one spell – Geron is able to destroy objects, while Nuri can fix them. The main protagonist is considered to a jinx ever since he became the part of the prophecy regarding the upcoming evil foretold by a dark wizard while he was being burned at the stake. Several years later the young man was very unfortunate and wherever he went, accidents tended to happen. The game starts with a murder of a famous knight. Let us just add flocks of weird behaving ravens and we can easily guess that the main protagonist is bound to have a lot of work ahead of him.
The story is set in a fantasy world known as Aventuria. This universe was created in 1984 for the tabletop RPG called Das Schwarze Auge (The Dark Eye) – its popularity has resulted in multiple video game adaptations including the Realms of Arkania trilogy, the Drakensang series, and several web browser games. Chains of Satinav for PC is the first adventure game based on this license.
Mechanics
In The Dark Eye: Chains of Satinav for PC, the gameplay resembles other games of the same genre and involves interacting with NPCs, solving puzzles, and exploring consecutive locations to find new items necessary for beating obstacles to come. The game is designed in such way that players know what task they have to complete, and the difficulty lies in finding the way of completing it – this is why players can refer to the journal that includes pieces of information regarding both current and completed objectives.
Techincal aspects
The 2D visuals feature beautiful, hand-painted backgrounds and poor character animations. In spite of the fairytale-like themes, the game features intense and nostalgic atmosphere, and the in-game world looks very realistic. Interestingly enough, the game supports high resolution (1080p) and works properly on panoramic screens.
Similar games:
Age Rating
age requirements: 16+
System requirements
Recommended:
Core 2 Duo 2 GHz
2 GB RAM (2.5 GB RAM - Vista/7)
graphic card 512 MB (GeForce 8800 GT or better)
5 GB HDD
Windows XP/Vista/7