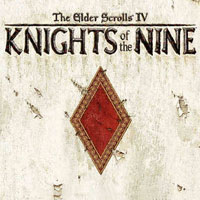 Knights of the Nine is the first full-fledged add-on for The Elder Scrolls IV: Oblivion, which expands the PC version by new elements prepared especially for the PlayStation 3 release.
The expansion introduces a new titular guild (its agenda directly opposes the Dark Brotherhood), which you can join from the very start of the game. Along with this faction come new locations, characters, items, spells, and obviously quests. As you climb up the guild's ranks, you gain access to new abilities. However, you have to act as befits a holy warrior. Acting against the law of Cyrodiil will get you stripped off privileges or even expelled from the brotherhood. The content of the expansion offers about 10 hours of gameplay.
The expansion comes in two versions. The electronically distributed edition features the previously discussed guild. The retail release additionally offers all previously released official DLC's. These include: Horse Armor, The Orrery, Wizard's Tower, Vile Lair, Thieves Den, Mehrunes' Razor, and Spell Tomes.
Similar games:
PEGI Rating
System requirements
PC / Windows
Recommended: Pentium 4 3 GHz, 1 GB RAM, graphic card 128MB (GeForce 6600 or better), 1 GB HDD, Windows 2000/XP