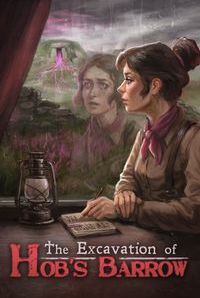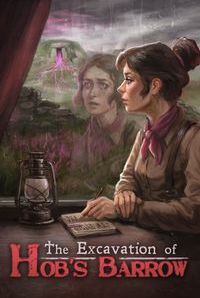 The Excavation of Hob's Barrow
The Excavation of Hob's Barrow is a retro-style adventure game inspired by 1990s games. The story is set in the Victorian era, and the plot revolves around supernatural creatures from English folklore.
Adventure | point-and-click | horror | 2D | indie games | 19th century
The Excavation of Hob's Barrow is a folk horror adventure game with a point'n'click interface. It was developed by Cloak and Dagger Games studio, known for Sumatra: Fate of Yandi and Football Game, among others. Wadjet Eye Games, known for Unavowed and The Blackwell Legacy series, among others, assisted in the work.
Plot
The story is set in the Victorian era. The main character is a researcher named Thomasina Bateman, who is in the process of writing a book about historical English barrows. Wanting to gather the necessary materials for this, she accepts a letter invitation to visit the village of Bewlay. On the spot, however, it turns out that the sender is lost somewhere, Thomasina's assistant never arrived in the village, and to make matters worse, the local landowner refuses to give permission to dig up the burial mound located on his property.
Trying to understand the whole situation, the heroine quickly discovers that not everything that happens in Bewlay has a natural explanation, and some events are linked to creatures from local myths.
Game mechanics
The Excavation of Hob's Barrow is a classic adventure game referring to productions of this genre released in the 1990s. We explore locations, collect items, conduct conversations and solve puzzles. All this is done using a comfortable point'n'click interface.
The puzzles prepared by the authors are varied. The player's cleverness is tested both in tasks that require the proper use of objects and simple logic mini-games.
Game modes
The game offers only a single-player mode.
Technical aspects
The Excavation of Hob's Barrow features two-dimensional graphics, realized in a retro style full of large pixels, inspired by PC adventure games from in the 1990s.
Last updated on 08 January 2023
Game mode: single player
Age restrictions The Excavation of Hob's Barrow: 16+
The Excavation of Hob's Barrow System requirements
Minimum:
Intel Pentium 4
1 GB RAM
graphic card Intel HD or better
2 GB HDD
Windows XP
Recommended:
Dual Core 2.7 GHz
2 GB RAM
graphic card Intel HD or better
2 GB HDD
Windows XP(SP2)/7/8/10