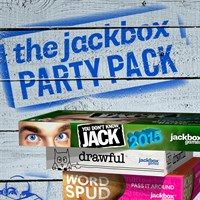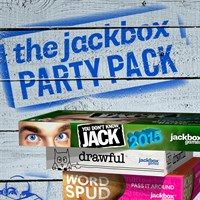 The Jackbox Party Pack
The Jackbox Party Pack is a compilation of 5 simple social mini-games. They focus on checking the reflex and perceptiveness of players. Jackbox Games studio is responsible for productions and game release.
Party | package | for 2 people | minigames | co-op | splitscreen
The Jackbox Party Pack
Release Date
The Jackbox Party Pack from Jackbox Games is a collection of 5 simple mini-games dedicated to multiplayer fun. Players can compete with each other and test their reflexes and association skills.
Mechanics
The Jackbox Party Pack includes the following productions:
You Don't Know Jack 2015 is a simple association game. Players receive closed-ended questions combining knowledge about pop culture and elementary facts. The person who first selects the correct answer will receive virtual money as part of the prize. The sooner they answer the question, the more cash they will receive.
In Fibbage XL players must distinguish between truth and lie. Sentences with one word cut out are provided. Everyone has to type in a false, but believable answer, which is then displayed together with the correct answer. The points are given to those who indicate the correct answer.
Drawful is a game based on a drawing. One of the players must draw a picture related to the indicated topic. The others write false hints. The aim is to correctly guess what is presented in the picture. The person who answers correctly receives points.
In Word Spud the game starts with one word. Players have to add more to make a reasonable phrase. Each option is subject to assessment. For each positive, points are received. The option with the highest score becomes the starting point for the next turn.
Lie Swatter gives true and fictional historical facts. The player receives points for each correct indication of whether the statement is true or false.
Game mode
Depending on the game chosen, the number of players who can take part in the game is different. Only local cooperation can be played.
Technical aspects
The Jackbox Party Pack enables us to adapt our mobile devices to the role of a controller. Thanks to this, any number of people can participate in the game.
Game mode: single / multiplayer Multiplayer mode: Player counter: 1-100
User score: 0,7 / 10 based on 134 votes.
Age restrictions The Jackbox Party Pack: Good for all ages.
The Jackbox Party Pack System requirements
Minimum:
Dual Core 2.0 GHz
512 MB RAM
graphic card Intel HD or better
650 MB HDD
Windows XP/Vista/7/8