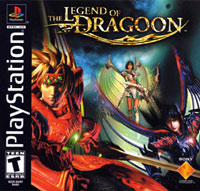 game language: English
game release date for PS1:
13June2000
The Legend of Dragoon is a jRPG released on PS1. The title was developed by Sony Computer Entertainment Japan as a response to the giant success of the Final Fantasy series. For this reason, the game shares many features common to the iconic saga, at the same time presenting several original solutions - especially in terms of the combat system.
Story
The main character of The Legend of Dragoon is Dart Feld. When he was a few years old, his village was attacked by a mysterious monster who killed all his loved ones. Eighteen years later, returning from the forest, Dart discovers that Seles, his current residence, was invaded by Sandora's army. The enemies not only killed many inhabitants but also captured Shane, the hero's friend. Dart sets off on a dangerous expedition to save the girl. During the journey, the young man acquires several companions, together with whom he acquires extraordinary abilities, helpful in the war against Sandora.
Mechanics
Gameplay in The Legend of Dragoon is based on typical formula developed by other jRPG representatives. The player controls a small party of heroes who travel around the map of the world, exploring selected locations, performing story tasks, developing the skills of party members and fighting countless opponents.
Battles are played in a turn-based combat system with a some arcade elements. When the player selects the attack option, a simple mini-game begins, in which we have to press the assigned buttons at the right moment. Success enables us to extend our offensive and increase the damage. Another distinguishing feature of the game is the ability of heroes to transform into the title Dragoons - powerful beings with increased power and the ability to use magic.
Similar games:
Age Rating
age requirements: 12+