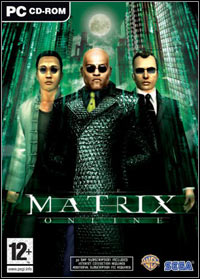 The Matrix Online
PC
The Matrix Online is a MMORPG created by Monolith Productions. The action was set after the events presented in the film trilogy of the Wachowski brothers. Players take part in the Matrix of War between people and machines.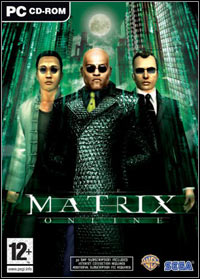 Game mode: massive online multiplayer
Multiplayer mode: Internet, players: 1000+

game language: English
game release date for PC:
22March2005
The most eagerly awaited massively multiplayer online game for years jacks into PCs early 2005.
An anxious truce exists between humans, their erstwhile machine exterminators and the unscrupulous Merovingian. Neo - proved now beyond doubt the One and saviour of not just humans, but the Matrix and the machines with it - has succeeded in brokering a truce with his own life, a truce that secures the release of any willing human minds from the Matrix.
Breaching the Matrix from hovercraft gliding at broadcast depth, a new generation of humans enter the Matrix with their Zion brethren, free to roam the rich virtual world, discovering for themselves how deep the rabbit hole goes.
Produced by The Matrix creators Andy and Larry Wachowski with acclaimed developer Monolith, players of The Matrix Online will experience all the bleeding-edge stylistic quality of The Matrix movie trilogy. And only online will players experience the evolution of the Wachowskis' now legendary Matrix storyline.
Craft your own residual self image and begin to explore a vast urban sprawl, seemingly normal were it not for the secret, desperate war being waged in its shadows. Engage in Bullet Time hand-to-hand and armed combat, or download extraordinary skills and programmes to the Matrix from your hovercraft. Tasked with joining one of the three warring factions, you'll need all the help you can get in your fight to decide the fate of the Earth.
• Devastating martial arts manoeuvres and sneak attacks with dozens of weapons, created with Bullet Time effects intelligently generated based on player moves and tactics.
• A full cityscape environment, with traffic, living neighbourhoods and breathtaking skylines, immerses players in the most authentic Matrix MegaCity ever created (using Rich World technology).
• A robust mission system offers players maximum re-playability and depth.
• A user-friendly and highly customisable skill/ability system allows players to 'download' skills and abilities for their character each time they jack into the game.
• Plotlines by The Matrix creators, Larry and Andy Wachowski, continue the Matrix story where the movie trilogy leaves off and provide players with deep insights into the world of the Matrix.

Game score 7.7 / 10 calculated out of 518 players' votes.
PEGI Rating
System requirements
Recommended:
Pentium 4 1.4 GHz
512MB RAM
graphic card 64MB (GeForce 3 or better)
7 GB HDD