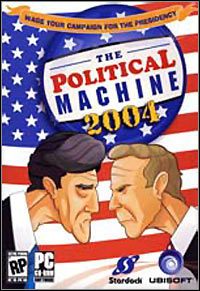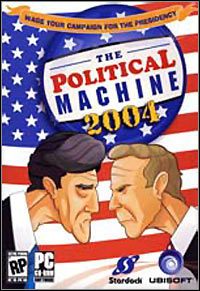 The Political Machine 2004
PC
Another, after the excellent star strategy of Galactic Civilizations, ambitious production of Stardock Systems Inc.
Simulation | Economic | turn-based | 2D | politics
The Political Machine 2004

Release Date PC

10August2004
developer: Stardock Corporation publisher: Ubisoft Official website

game language: English
Are you up for the challenge? Spend 41 weeks on the campaign trail, serving as a campaign manager for a presidential candidate. In an effort to secure a spot in the Oval Office, you must secure the greatest number of electoral votes and utilize the various facets of political strategy. Establish a campaign network, build capital, deliver speeches, buy advertising, fund-raise, and make appearances on national TV news programs in your efforts to master the political machine.
Features:
*Experience the presidential campaign as an insider: With a strategic model based on data collected from surveys, exit polls, and the 2000 U.S. Census, The Political Machine gives users a realistic look at today's current issues and politicians by political party and by geographic location.
*??? for president: Players can design their own candidates based on a dozen different characteristics, or use existing political candidates such as George W. Bush, John Kerry, and dozens of historical politicians including Ronald Reagan and Franklin D. Roosevelt.
*Be a media darling: Create awareness by making media appearances and being interviewed on national news programs such as Barry King Live, 60 Seconds, The O'Malley Factor, HardHitter hosted by Bill Mathens, Barbara Sawyer, and JoeUser.com.
*Raise your clout with 10 special interest groups: Win endorsements from special interest groups including the National Gun Owner's Association, the Environmentalist's Club, the National Association for Women, the Christian Confederation, and the U.S. Chamber of Business.
*Political operatives and political activists: Utilize political operatives such as the Media Darling and the Money Man, or enlist activists like the Scandal Monger. Beware of the Time Waster and other activists that may hurt your campaign.
*Four game modes: Four different game modes allow the user to choose from Quick Play, Campaign Play, Fantasy Play, and multiplayer modes.
*Single-player and multiplayer capabilities:The Political Machine is both a single-player and a multiplayer game, giving players the choice to compete against the computer or other users online at www.politicalmachine.com.
Last updated on 10 December 2007
Game mode: single player
Media type: 1 CD
Age restrictions The Political Machine 2004: 12+
The Political Machine 2004 System requirements
Recommended:
Pentium III 1 GHz
256 MB RAM
graphic card 32MB
250 MB HDD