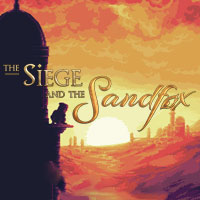 game language: English
game release date for PC:
2021
The Siege and the Sandfox is a combination of a classic two-dimensional metroidvania with a stealth game. The small independent studio Cardboard Sword, whose members have previously worked on titles such as Forza Horizon 3 or Not a Hero, is responsible for its development.
Story
The story focuses on the character of a murderer roaming a huge city - a true Persian gem, located deep in the sands of the desert. Now the metropolis is besieged by an enemy army, and the hero was unlucky enough to witness the assassination of its ruler. Worse still, he was framed for the assassination. When thrown into the dungeon, the villain must get out of the labyrinth of underground corridors and reveal the truth to the world. The future of the city depends on the success of his mission.
Mechanics
The game uses the basic mechanics of classic 2D platform games like Metroid or Castlevania series. The rogue is also a good acrobat - he can climb, jumping from wall to wall, overcome gaps with accurately measured jumps and grab onto elements protruding from the walls.
The hero is a character holding on to the shadows, so you can easily notice the focus on stealth mechanics, reminiscent of Mark of the Ninja. The rogue uses dark nooks and crannies to avoid the enemy forces, secretly opens locks, kills only as a last resort and prefers to stun victims with a wooden club. He also has to worry about the noise generated by his steps, e.g. the sand under his feet enables him to run noiselessly, while the clattering of shoes on a stone floor will draw the attention of every guard in the area. The anxious opponents don't spare their resources to find the hero if they only discover something suspicious in the area. As the game progresses, the thief also unlocks further skills and equipment that enable him to return to the areas he's already visited to explore previously inaccessible corridors.
Technical aspects
The Siege and the Sandfox is based on a technologically advanced Unreal Engine 4 technology, more precisely its 2D Paper module for 2D visuals. In the game, the technology has resulted in an eye-catching system of light and shadow, which complements the very detailed pixelart graphics. Also noteworthy is the music reminiscent of oriental arrangements, which are the hallmark of the Prince of Persia series.