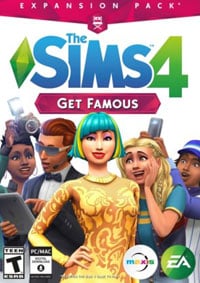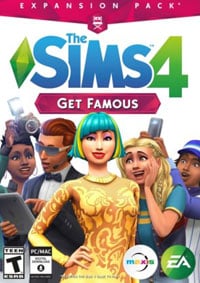 The Sims 4: Get Famous
The Sims 4: Get Famous allows your Sims to become actors or influencers, and develop their careers in such professions. This expansion also introduces new locations, challenges, and facilities.
This is The Sims 4 expansion pack.
The Sims 4: Get Famous is another expansion to popular life simulator The Sims 4. Both productions were developed by EA Maxis studios, known for Spore and SimCity series.
Mechanics
Get Famous is a classic add-on. This add-on does not introduce any revolutionary changes and focuses on expanding the content of The Sims 4. According to the title, the expansion pack allows players to develop their Sims so they can become a star of filming industry. They start their careers modestly and becoming a top actor or actress requires good performance of tasks, acting skills and taking care of popularity in social media. It is also necessary to join an acting agency, which will help to arrange good roles in films, series and commercials.
Alternatively, your Sims can also become so-called influencers, who can increase their fame in the network into marketing contracts. Being a star is quite a lucrative activity. New types of interactions are unlocked as the royalties increase: for example, your Sim boasts wealth through a gesture in which he pretends to be on the phone, but instead of a smartphone he holds a thick file of cash in his hand.
This add-on allows players to actively participate in the career path of their Sims. You can look at the metamorphosis of your character by make-up specialists, shape friendships with directors, or make sure that your Sims play the role properly. The actor's profession is not an easy one and requires many important choices. For example, you are regularly forced to decide whether your Sim will bet on safe but icon-free acting or risk a more lively action acting.
This add-on implements a new area to The Sims 4 called Del Sol Valley with many interesting locations and districts where you can buy a house or apartment. Also, a large set of previously unavailable items has been unlocked.
Game modes
Like The Sims 4, Get Famous allows you to have fun in single player mode only.
Technical aspects
This is not a stand-alone expansion, which means that it requires a basic version of The Sims 4 game to work.
Game mode: single player
User score: 7,7 / 10 based on 36 votes.
Pre-release expectations: 6.3 / 10 based on 15 votes.
PEGI rating The Sims 4: Get Famous
The Sims 4: Get Famous System requirements
Minimum:
Intel Core 2 Duo 1.8 GHz
4 GB RAM
graphic card 128 MB GeForce 6600 / Radeon X1300 or better
15 GB HDD
Windows 7/8/8.1/10 64-bit
Recommended:
Intel Core i5 2.33 GHz
4 GB RAM
graphic card 1 GB GeForce GTX 650 or better
18 GB HDD
Windows 7/8/8.1/10 64-bit