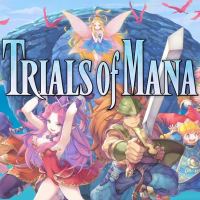 Trials of Mana is a complete remake of the third installment of the action jRPGs under the Mana franchise (japanese title: Seiken Densetsu), whose for the development is responsible the Japanese company Square Enix. The series began in 1991 on the portable Game Boy as a spin-off of the Final Fantasy series, strongly inspired by The Legend of Zelda. The new series reached its peak of popularity on the SNES console, which featured its two most important and highly received installments - Secert of Mana and Trials of Mana.
With the release of Legend of Man on the first PlayStation in 1999, the franchise began to fall into oblivion. After several years, mainly thanks to loyal fans, Square Enix began to remind itself of it, offering mobile reissues and remotes, such as Secret of Mana (from 2018) on PlayStation 4, PlayStation Vita and PC.
Plot
Trials of Mana is set in a world where the word Mana is used to describe the ethereal and ubiquitous energy created by the goddess, who forged a magic sword to save the world from eight divine beasts. After this heroic act, she fell asleep and turned into a mana tree. The story takes place long after these events when the defeated monsters wake up to life, and Mana begins to disappear from the face of the earth, ending the era of peace and prosperity. During the game we follow the fate of several different heroes, whose paths cross in an unexpected way.
Mechanics
Trials of Mana is a classic action RPG, in which the action is observed from the third-person perspective. While playing, we control several different heroes with unique combat styles and attacks. Their skills and strength are described in a number of statistics, which are influenced by the equipment. During the game, we will defeat many types of opponents, including powerful bosses and bosses towering over us.
Technical aspects
In contrast to the Secret of Mana remake from 2018, Trials of Mana has a much larger budget, which has enabled the devs to offer character dubbing, a new soundtrack, and high-quality 3D visuals to preserve the style and atmosphere of the two-dimensional original.
Similar games:
PEGI Rating
System requirements
PC / Windows
Recommended: Intel Core i5 2.5 GHz / AMD Ryzen 3 1200 3.1 GHz, 8 GB RAM, graphic card 4 GB GeForce GTX 1050 Ti / Radeon RX 470 or better, 20 GB HDD, Windows 8.1/10 64-bit
Minimum: Intel Core i3 2.5 GHz, 4 GB RAM, graphic card 2 GB GeForce GTX 760 / Radeon RX 460 or better, 20 GB HDD, Windows 8.1/10 64-bit