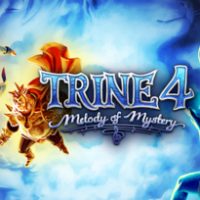 Game mode: single / multiplayer
Multiplayer mode: Internet / common screen, players: 1-4
Melody of Mystery is the first add-on to Trine 4: The Nightmare Prince, consisting of a 6-level campaign in which three protagonists again go to the Astral Tower to help the students there who have fallen into a long sleep caused by the mysterious music box.
Plot
Cornelius, one of the students of the Astral Academy, one day finds a strange music box. Curious, he opens it, not knowing that it is enchanted and hides a spirit named Melody, capable of looking into the depths of man and seeing his greatest desires. A creature, thanks to its extraordinary powers, can fulfil them, but only in a dream world - so the whole Academy and its students fall asleep. Almost all of it, because by the order of fate, one of the students manages to escape, which he uses to summon the heroes we already know - the sorcerer Amadeus, the thief Zoya and the knight Pontius, who form the great trio Trine. Ahead of them is another journey through the oneiric premises of the Astral Tower, the vegetation-rich territories inhabited by pirates, the icy areas of the tundra, Cornelius' home village, haunted forests and other places that will bring the heroes closer to solving the uninteresting situation in which the students found themselves.
Mechanics
Melody of Mystery is based on the same mechanics as the main game, Trine 4: Nightmare Prince. However, the add-on has been enriched with new elements in the form of six new campaign levels, during which we will have to solve riddles with torches, crystals, magnets and ice. In addition, Three Heroes can strengthen their abilities through new upgrades such as explosive elements or ricochet-bumping arrows, but also several others.
Technical aspects
Melody of Mystery is a fully sounded expansion, enriched with new songs that we will hear during the game.
In add-on, you will find many references and characters known from the Trine series spin-off, Nine Parchments. Apart from Cornelius, we will meet Carabel and Rudolphus.
Similar games:
PEGI Rating
System requirements
Minimum:
Intel Dual Core 2.6 GHz
4 GB RAM
graphic card 1 GB GeForce GTX 560 / Radeon HD 5750 or better
1 GB HDD
Windows 7/8/10 64-bit
Recommended:
Intel Core i7-4770 3.4 GHz / AMD FX-8350 4.0 GHz
8 GB RAM
graphic card 2 GB GeForce GTX 960 / 3 GB Radeon R9 280 or better
1 GB HDD
Windows 7/8/10 64-bit