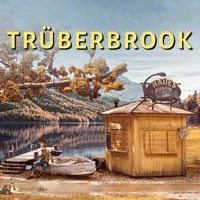 Trüberbrook for the PC platform, PS4 etc. is a science fiction adventure created by a German btf studio, founded by several students in 2012. The company is not very well known to players, as it has previously been involved in television productions, including the Neo Magazin Royale show. However, the idea for the project was so popular that it could be financed in the blink of an eye during the collection on Kickstarter in 2017.
Story
The story told in Trüberbrook begins in 1967. American physicist Hans Tannhauser unexpectedly wins a trip to the German village of Trüberbrook, although he does not remember taking part in any competition. He comes to the conclusion, however, that it will be worth resting a bit and going on holiday. After arriving and registering in Waldeslust guesthouse he is robbed - the thief, however, only takes away his work on physics. While searching for the culprit, Hans meets the very strange villagers and the young anthropologist Gretchen Lemke, who is the only one who seems normal. With time, Hans also starts to realise that he did not get to Trüberbrook without a reason, because the future of the world will really depend on him.
Mechanics
Trüberbrook is a story-driven adventure, so the plot and characters are the most important and have been the focus of attention. Therefore, in terms of gameplay, this is not a revolutionary title - you will not find previously unseen solutions in it. The game consists in exploring new locations, where we have to perform various tasks. The puzzles have been designed to harmonize closely with the events told by the artists, so they are based on logical thinking, although in many cases they are based on the classic patent of finding and combining objects. Sometimes, however, we have to take part in other activities, such as taking a psychological test or convincing another character.
Technical issues
The game version for PC, PS4, etc. has a unique graphic style. Developers used an unusual technique to create all the scenes manually and then, thanks to photogrammetry, transferring them to the digital world, which translated into a very detailed environment.
Trüberbrook can also boast an interesting musical setting. All the songs in the game were prepared especially for her needs, inspired by the works of Tom Waits, Angelo Badalamenti and Mark Lanegan.
Please let us know if you have any comments or suggestions regarding this description.
PEGI Rating
System requirements
PC / Windows
Recommended: Intel Core i3-5157U 2.5 GHz, 4 GB RAM, graphic card 2 GB GeForce GTX 660 / Radeon HD 8470 or better, 7 GB HDD, Windows 7/8/8.1/10
Minimum: Intel Core i3-4150 3.5 GHz, 4 GB RAM, graphic card 1 GB GeForce GTX 550 Ti / Radeon HD 5870 or better, 7 GB HDD, Windows 7/8/8.1/10