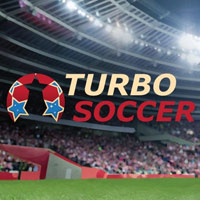 Turbo Soccer is a sports game in which we play as Kamil Grosicki – the Polish midfielder. This title is characterized by a simple, intuitive gameplay model. It was created by the Polish independent studio DoDo4Story, whose employees have participated in the creation of such titles as Dead Island, The Witcher 2: Assassins of Kings, The Witcher 3: Wild Hunt or Simon the Sorcerer 5.
Mechanics
Playing Turbo Soccer is extremely easy. Unlike most football games, DoDo4Story doesn't allow you to play fully-fledged team games. Instead we control a single player and our task is to score goals.
The player controlled by us runs in front of him automatically, controlling the ball. From time to time, players try to stop it – we avoid it by touching a specific point on the screen at the right time. In a similar way, we can also speed up the race when the relevant information appears. If we manage to reach the penalty area, we get the opportunity to shoot. We do this by swiping your finger on the screen and marking the bow on which the ball is to move.
For coping with the challenge we receive points for which we can buy new elements of clothing - e.g. T-shirts or shoes.
Game modes
We can only play Turbo Soccer on our own. The game offers three different modes: Action (we train dribbling and shooting), Shooting (we shoot) and Tournament (we compete with our opponents according to the rules known from the first mode). In some of the fun options the results are listed on special boards, so you can see how we are doing compared to other players.
Technical aspects
Turbo Soccer has a three-dimensional graphic design, which does not present a very high level, even for productions for mobile platforms. The only element that stands out from the crowd is the model of the game's hero, Kamil Grosicki, who really resembles a famous football player.
Age Rating
age requirements: everyone
System requirements
Android OS
Additional information (AND): Internet connection is required.
Apple iOS
Additional information (iOS): Internet connection is required.