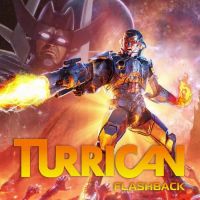 Turrican Flashback is a collection of remastered versions of four classic 90s sci-fi 2D platformers: Turrican , Turrican II: The Final Fight, Mega Turrican and Super Turrican. The game was developed by Factor 5 studio. The publisher is ININ Games.
Mechanics
Games included in the package are 2D platformers, in which the action is observed from the side ( so-called side-scrollers). The game is all about exploring locations and eliminating enemies. A characteristic feature of the Turrican series is the vastness of the explored areas.
Developers of the remaster improved the controls and gave the players an additional rewind function, which allows to replay a given section.
Game modes
In Turican Flashback we can only play alone. The core of the game is the single player mode.
Technical aspects
All four game included in the package have a simple, 2D, pixel-art style graphic design. The games use higher resolutions than the originals and can be enjoyable despite their technological outdatedness (mainly due to the interesting colour scheme and cool location designs). Gamers can also use a special shader that imitates the look of a classic CRT monitor screen. The soundtrack by Chris Helsbeck also deserves a mention.
Similar games:
PEGI Rating