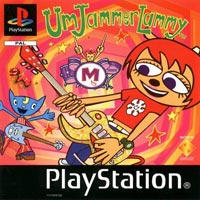 Game mode: single / multiplayer
Multiplayer mode: common screen, players: 1-2

game language: English
game release date for PS1:
18March1999
Um Jammer Lammy is a spin-off of PaRappa the Rapper, developed by NanaOn-Sha. The production representing the rhythmic game genre was released on PS1.
Story
In Um Jammer Lammy we take on the role of the title Lammy - an introverted sheep that turns into the queen of every party only when she has a guitar in her hands. We meet the heroine at the moment when she tries not to be late for the concert of her band called MilkCan. After arriving at the place, the protagonist discovers that the group has a new vocalist, Chop Chop Master Onion. When the song played on stage comes to an end, a vacuum cleaner appears in place of Lamma's precious instrument, which leads the sheep to despair. Chop Chop Master Onion makes her aware, however, that the guitar occupying an important place in her heart will accompany her regardless of circumstances.
After all, it turns out that it was only a bad dream, and Lammy is only fifteen minutes left to reach her dream performance. Our task is to make sure that the heroine reaches the stage on time.
Mechanics
Just like in PaRappa the Rapper, gameplay in Um Jammer Lammy is limited to pressing the buttons displayed on the screen at the right moments. Our actions are supervised by a scoring system which gives us a marks reflecting our accuracy, so in the course of the struggle we have to show, first of all, reflexes, sense of rhythm and perceptiveness.
Due to the fact that Lammy is a guitarist, buttons correspond not to specific words, but to guitar chords. The game consists of seven story stages, during which the sheep has to face seven teachers. An interesting mechanic has been implemented in the game, allowing Lamma to have a little bit of the so-called "freestyle" - then the master leaves the stage, enabling the heroine to play a spectacular solo.
Game modes
Um Jammer Lammy can be played solo or in the company of a second player; in multiplayer mode we can either cooperate with our companion or compete with them.
Technical aspects
The visual side of Um Jammer Lammy is very similar to the earlier work of NanaOn-Sha. Thus, the whole whing is enriched with an intense palette of colors, and although the environment is three-dimensional, the figures on stage look like cut out of paper.
Similar games:
Age Rating
age requirements: everyone