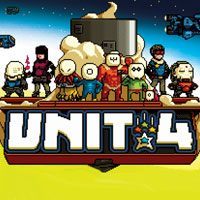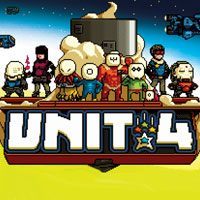 Unit 4
A dynamic and demanding platform game in a retro setting. Developed by Gamera Interactive, Unit 4 focuses on the adventures of four alien special agents trying to save their star system from inevitable doom.
Arcade | science fiction | 2D | indie games | co-op | splitscreen
Unit 4 is an action-filled platform game, which can be played solo or in a 4-player local co-op mode. The PC and XONE release of the game is a debut of an independent studio from Italy – Gamera Interactive.
Plot
The four main protagonists are alien special agents, who traverse the galaxy aboard a small spaceship. During one of their voyages, they receive a message from their commander with orders to investigate suspicious actions of unidentified vessels closing on the protagonists' home planet – Doomo. Upon reaching their destination, our special agents find out their home planet has been attacked by a hostile alien fleet. What is worse, these aliens have stolen an ancient artifact, the power of which is necessary for Doomo to exist. When protagonists find out that neighboring planets have also lost their artifacts, they face a difficult situation – either they find a way to retrieve the stolen properties, or the entire solar system gets annihilated. Not to waste a moment, the special unit embarks on a journey through space trying to discover evil aliens' secrets, cross their plans, and save Doomo.
Mechanics
Developed for PC / Windows, Unit 4 is an old-school side-scrolling platformer. Players get to traverse consecutive locations by jumping between platforms, hanging from the walls and ceilings, as well as utilizing unique moves featured by each protagonist. Locations are filled with enemies, which one has to eliminate, and golden coins waiting for players to collect. Players observe the action mostly from a side perspective, the exception being the intergalactic travel mode, in which one uses the galaxy map to choose their next destination.
Gameplay mechanics revolve around the option to switch between four available characters: Blue, Red, Green, and Yellow. Each character features a unique skillset – Blue can perform Double Jump and reach higher platforms. He can also hang from the walls and bounce off them, to reach tight funnels. Red is a true warrior – his Deadly Dash allows him not only to move right and left in no time but also to eliminate enemies standing on his way. Green has a grapple rope called Justice Hook, with which he can pull himself to walls, ceilings, and moving platforms. The last one of the special agents – Yellow – uses his incredible powers to walk through some of the obstacles (Ghost Flight) and slowly glide down.
Unit 4 is a game, which requires players to prove their reflexes. The enemies can move very fast, while the protagonists do not have life bars – a single physical contact with an enemy results in an immediate death and necessity to replay a given level from the start. Apart from a number of standard opponents, our protagonists have to face six powerful and dangerous bosses.
Game modes
The story campaign in Unit 4 can be played solo or with up to 3 players in a local cooperative mode.
Apart from the story campaign the game offers three minigames, however, they have to be unlocked first.
Technical aspects
The visuals implemented in the game feature a pixel art style, making the game similar to early platform games. Also, the soundtrack is bound to remind the players of some both older and retro productions. The game has been based on Unity engine - a technology popular among independent developers.
Game mode: single / multiplayer Multiplayer mode: Player counter: 1-4
PEGI rating Unit 4