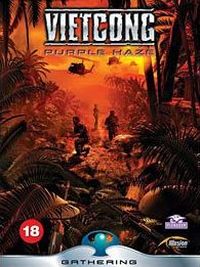 Vietcong: Purple Haze is a narrative-based First Person Shooter set during the Vietnam conflict. Experience the war from the perspective of a soldier assigned to a squad of U.S. Special Forces running reconnaissance missions deep into the jungles of Northern Vietnam.
Utilizing any means necessary, players of Vietcong patrol various tactical regions – setting traps, gathering intelligence, calling in air strikes or ambushing enemy patrols. Over 18 dramatic missions featured in a cinematic single player campaign. Choose Quick Fight mode to fight as either a US or Vietcong soldier! Play online via Xbox Live against up to 8 players online in 9 multiplayer levels.
PEGI Rating
System requirements
PC / Windows
Recommended: Pentium III 1GHz, 256MB RAM, 64MB graphic card
Microsoft Xbox
Uses: Xbox Live!