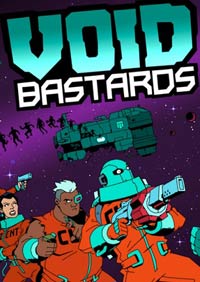 Void Bastards is a science fiction first-person shooter enriched with strategic elements. The project was developed by Blue Manchu studio, the developers of a critically acclaimed Card Hunter. The development team consisted of people who played key roles in the production of such titles as System Shock 2 or BioShock.
Plot
The action of the game takes place in the distant future. The player takes command of a bunch of prisoners who have to find a way to escape from a galactic prison and then break through the Sargasso nebula, densely filled with drifting spaceship wrecks.
Mechanics
Void Bastards is a hybrid genre in which the gameplay is divided into two segments. In strategic mode, we manage subordinates and stocks of food, fuel, and other materials, as well as decide where to go in the nebula. The space void is patrolled by space whales and pirates, so in the initial stages of the game it is necessary to avoid contact with these threats.
The exploration of ships takes place in the form known from first person shooters. In addition to combat, the collection of objects and the manipulation of unit systems play an important role. The game also offers a lot of freedom in the gameplay. For example, we can break through mechanical safety systems or try to activate the onboard computer, which will turn them off.
Collected objects are used to craft weapons and various useful gadgets. An additional attraction is a rich gallery of prisoners with unique personalities and gadgets. The death of each of them is permanent, but the fallen hero is replaced by a new one, and we do not lose progress in the crafting system.
Technical aspects
Void Bastards offers an attractive three-dimensional graphics design in a strong comic book style.
Similar games:
PEGI Rating
System requirements
Minimum: Intel Core i5-2400 3.1 GHz / AMD FX-8320 3.5 GHz, 8 GB RAM, graphic card 2 GB GeForce GTX 660 / Radeon HD 7850 or better, 20 GB HDD, Windows 7/8/10 64-bit
Recommended: Intel Core i7-2600K 3.4 GHz / AMD FX-8350 4.0 GHz, 16 GB RAM, graphic card 4 GB GeForce GTX 970 / Radeon R9 290 or better, 20 GB HDD, Windows 7/8/10 64-bit