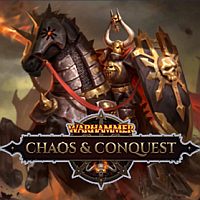 Game mode: massive online multiplayer
Multiplayer mode: Internet
Warhammer: Chaos & Conquest is a real-time strategy designed for multiplayer fun. The title, created under the supervision of Games Workshop (owner of Warhammer brand rights), was developed by Hunted Cow studio in Scotland, and was released by Tilting Point.
Plot
Warhammer: Chaos & Conquest takes us on a journey into the dark universe of Warhammer Fantasy. Our task is to spread the influence of Chaos, conquer the Empire of people and deal with factions on our way, among which there are Demons, Greenskins, Dwarves and Beastmen. In this way, we gradually take control of the entire Old World, and as a result we are called the Omnipotent.
Mechanics
In Warhammer: Chaos & Conquest the action was shown in isometric view. The game takes place in characteristic places known to the brand's lovers, such as Norsca, Troll Country or Chaos Wastes.
In order to carry out the task before us, we must have the most powerful army possible. However, if you want to do this, you first need to acquire the right amount of resources and properly expand the fortress, erecting new buildings (such as a sawmill, slaughter pens, a blast furnace or a quarry) and improving the existing ones. In addition to the structures listed above, the list of available structures includes temples dedicated to specific deities (providing us with their favor), as well as the sorcerer's citadel, defensive walls, workshops and smithy of demons, and finally dungeons and training fields.
In addition to standard infantry units (Thieves, Chaos Warriors and Chaos Chosen) and various beasts (such as Slaughterbrutes, Dogs of War, Chimeras and Bloodbeasts), we lead Demons and Warlords to battle, spreading real hardship on the battlefield. Moreover, as we progress, we gain new abilities increasing the potential of our army - their skilful use may change the fate of many clashes.
Game modes
Although you can play Warhammer: Chaos & Conquest on your own, the title is designed primarily for multiplayer battles with a maximum of fifty participants. Players can form alliances by working together, sharing resources and borrowing units, as well as jointly meeting the challenges posed by the creators. Besides, the PvP mode is waiting to be checked, where the creators allow us to conquer the fortresses of other commanders; however, it is worth paying attention, because the same fate may happen to our fortress.
Technical aspects
Graphic design of the game Warhammer: Chaos & Conquest maintained in a dark style, characteristic of the Warhammer Fantasy universe. With attention to detail, both individual units, as well as buildings and elements of the environment have been made. The whole thing is handled by means of an extensive, yet legible interface.
Age Rating
age requirements: 12+
System requirements
Android OS
Additional information (AND): Internet connection is required.
Apple iOS
Additional information (iOS): Internet connection is required.
PC / Windows
Minimum: Intel Core 2 Duo E6600 2.4 GHz / AMD Phenom X3 8750 2.4 GHz, 2 GB RAM, graphic card Intel HDD or better, 1 GB HDD, Windows 10